---
Inground Pool Heaters
Inground pool heaters are an important part of your salt water pool system if you live in a climate where heating is necessary by enhancing your swimming experience in a cost effective way.  A water heater will keep your pool at a constant warm temperature through those stretches of cool nights and even extend your swimming season by several months.

Hayward H-Series Low NOx 100,000 BTU Natural Gas Pool and Spa Heater
The luxury of being able to swim in your salt water pool during the day and in the cooler evenings with a constant warm and inviting water temperature.  There's nothing worse than getting into a cold pool when the weather isn't the best.  In most cases pool owners extend their swimming season by up to two or three months just by adding a pool heater. 

The importance of choosing the right heater is often overlooked by both pool owners and even pool professionals.  It is one of the most important financial decisions you can make about your overall pool system and it is worth every penny to learn a bit about your pool and your heating options.  If you end up using a heater that is not sufficient for your heating needs or ends up costing more unnecessarily it is difficult and expensive to change heaters.
There are three main types of inground pool heaters and each of them vary in how they operate.  It is worth taking the time to read through each type to get informed and make the right decision with the goal of finding a heater that will do everything you desire and for the right price.
Type of Inground Pool Heaters
The climate you live in plays a major role in determining the best heater for your pool. A gas pool heater is ideal for colder climates in the norther United States and Canada. An electric pool heater is sufficient in mild climates but when the temperatures drop they do become less effective. 
It also depends how fast you want your pool or spa to heat up. If its not important to you then an electric heater will be good enough but if speed is important - a gas pool heater will get the job done. Solar heaters will be even slower but the cost can't be beat!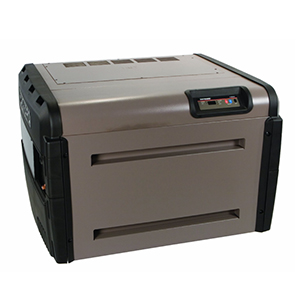 A natural gas pool heater is the most popular method of heating swimming pools and spas because of their versatility and affordability. A gas heater is fueled by either natural gas or propane delivered through an existing gas line or propane canister tank.
An electric swimming pool heater is growing in popularity for its ability to heat swimming pools with very little energy. Also known as a heat pump pool heater because it relies on small amounts of electricity to convert heat from the environment into heat energy for your pool.
A solar powered pool heater uses energy from the sun to keep your pool warm and comfortable throughout the pool season. They are an affordable way to extend your swimming season in cooler climates and allow year round enjoyment in warmer climates.

All of these inground pool heaters are great options and worth taking the time to find the right one for your unique salt water swimming pool.

SWPS Home Page