Swimming Pool Maintenance Cost
Your swimming pool maintenance cost will vary depending on the size of your pool, pool system, additional features and if you plan on doing the pool maintenance yourself.  The do-it-yourself approach is an option for handy pool owners that are willing to put the time in and are familiar with the basics of pool chemistry.  An alternative option is to hire a professional pool service that will maintain your pool on a weekly, bi-weekly or monthly basis and complete major upgrades or repairs.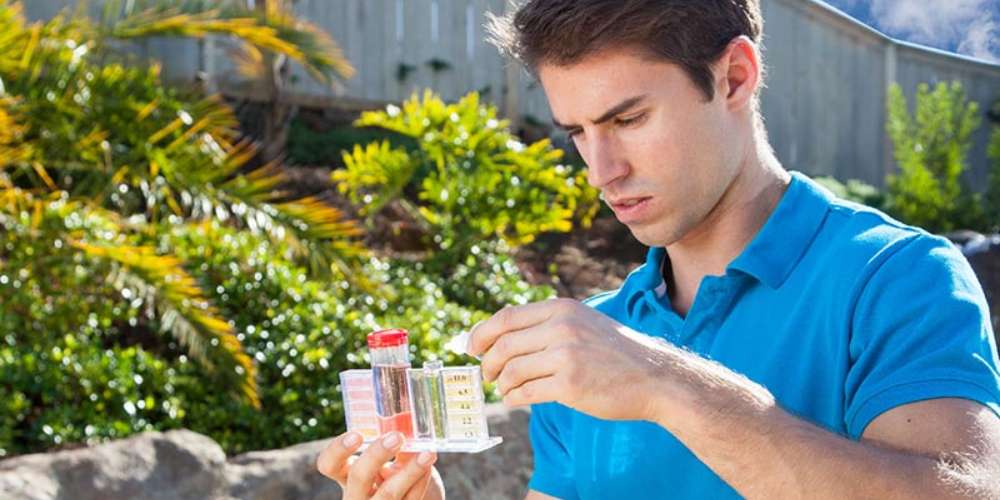 If you are considering installing a swimming pool in your backyard or have purchased a home with an existing pool you are probably wondering how much it's going to cost to keep a pool running smoothly.  
The cost to maintain a salt water system or any pool is often overlooked which can result in a pool getting out of balance and unhealthy for anyone using it.  It can also result in pool owners giving up all together to the point where the pool isn't being used at all.  
We'll provide some estimates for how much it costs to maintain a pool on your own followed up with a break down down of how much it costs to hire a pool service company to maintain your pool all season long including what their services usually include.  
The bottom line is that almost any pool can be maintained by an owner that is willing to put a bit of time into learning a few important basics.  The most complicated task will be balancing chemistry that can be manageable with a good testing kit and proper chemicals.  Ensuring that all the hardware including the pump, filter and salt water system are running smoothly will take a bit of knowledge but keeping your pool properly balanced should ensure your system stays in great shape. 
In addition to chemistry, knowledge of your pool system and hardware it will take a bit of elbow grease to keep your pool clean and free of dirt and debris.  There are many options if you want automation of pool cleaning including in-pool floor cleaners, vacuums and robot pool cleaners.  If you prefer the hands on approach there are many skimmers and hand held vacuums that get the job done with a bit of work. 

Cost to Build a New Swimming Pool
We'll first take a quick look at what it will cost you for the average new pool in North America.  It's important to keep in mind that these estimates will vary with things like; geographic location, size of pool, hardware and additional accessories.  After you have a good idea of the initial investment required for a new pool we'll go over the average swimming pool maintenance cost for things like; chemicals, replacement parts, repairs and professional pool services. 
Inground Pool
Above Ground Pool
$15,000-25,000
$2,000-10,000
Cost for Pool Hardware and Accessories
With a typical swimming pool installation you can expect the following hardware and system components to be included in your estimate.  We've listed the average values of each so you can get an idea of the cost breakdown as well as what you can expect to pay for additional pool accessories to make your pool more enjoyable or accessible. 
Salt System
Pump
Filter
Heater
Vacuum
Lighting

$350-1,800
$250-500
$250-500
$1,000-1,500
$200-500
$200-500

Liner
Cover
Ladder & Steps
Diving Board
Slide

$750-2,000
$100-750
$100-400
$300-800
$750-1,500

Cost for an Above Ground Pool 
The average cost for an above ground salt water pool including accessories is as follows.  The initial investment is considerably lower due to the fact that there is less labour and cost associated with excavating.  In addition they are smaller on average which means they require less materials and maintenance. 
Salt System
Pump & Filter
Heater
Vacuum
Lighting

$100-500
$100-400
$50-200
$100-300
$15-100

Liner
Cover
Ladder & Steps
Diving Board*
Slide*

$150-250
$30-50
$75-400
$300-800
$750-1,800

*A deck may be required
Swimming Pool Maintenance Cost Estimates
Now that you have a good idea of the estimated costs of a new pool and a breakdown of the cost of hardware and accessories we'll take a look at the average swimming pool maintenance cost you can expect as a do-it-yourself pool owner.  It's important to use these numbers as a rough guide as it can vary significantly depending on size, type of system and additional accessories.
Cost of Balancing Chemicals
We'll first take a look at the average monthly cost for pool owners that maintain their own pool without the assistance of a pool professional.  These averages are for cost of materials including balancing chemicals, shocks and other additives. 

Monthly 
Yearly
Opening
Closing & Winterizing
$50-150
$300-800
$50-150
$50-150
If you have a salt water pool you can expect to be on the low end of these estimates because salt water is more stable and requires less chemicals to stay balanced.  You also will never have to add chemical chlorine pucks because a salt water system creates chlorine by breaking down the salt water.  
If you have a brand new salt water pool or are converting your regular chlorine pool to salt water you will need to add pool salt to your water initially.  After the initial adding of salt you will only have to add very small amounts every year to maintain desired salinity. 
We recommend that if you are planning on keeping your swimming pool maintenance costs down and balancing your pool on your own that you purchase a quality pool test kit.  A good testing kit will provide accurate readings of the chemistry in your pool so you can make an informed decision about how to balance your pool.  If you would like more information about balancing and pool chemistry be sure to read our salt water pool maintenance page for more information. 
Additional Maintenance Expenses
In addition to balancing chemicals you should factor in that you will need to purchase devices that will help you carry out the manual portion of your pool maintenance.  These minor expenses include cleaning devices like a skimmer, brush and cleaning solution. 
One of the major expenses for pool owners is electricity that powers your entire system with the majority of the power consumption by the heater and pump depending on operation times.  If you live in a cooler climate in Canada or extend your pool season you can expect this cost to be higher than a pool owner than lives in the southern United States. 
We'll list the average cost you expect to pay on a yearly basis but of course these numbers will depend on your geographic location, pool usage and how well you maintain your pool. 
Electricity
Filter Replacement Parts
Hardware Repairs
Wear & Tear
$100-1,500
$25-100
$0-1,500
$0-1,500
The cost of electricity fluctuates and varies significantly depending on where you are located and if you live an climate that requires a heater we recommend finding a heater that fits your budget.  There are a variety of pool heaters on the market so it's worth taking some time to figure out what makes the most sense for you.  Another money saving tip is to use a variable speed pool pump that will use up to 80% less energy than a one speed pump.  
Swimming pool maintenance cost can vary significantly for different pool owners but hopefully this gives you an idea of what you can expect.  If you manage your pool on your own you can keep costs quite manageable if you have the time and knowledge.

Cost to Hire a Pool Service Company
If you find that you don't have time to manage your pool's upkeep a pool professional is a great option.  A pool service technician will visit your home and keep you pool running smoothly all season long and take a lot of the guesswork and hassle out of keeping your pool healthy.  The technician should be certified and knowledgable with all systems to prevent mistakes that may end up leading to costly repairs down the road. 
Cost for Basic Pool Service and Maintenance
It's always important to ask your pool service provider what services are included in the estimate.  In most cases you will receive a quote based on the size of your pool, system, additional features and how many hours they expect to spend at your residence.  In most cases this estimate will only include labour so you will need to factor in additional swimming pool maintenance costs for materials, repairs and balancing chemicals. 

Weekly Pool Service
Bi-Weekly Pool Service
Monthly Pool Service
Pool Opening
Pool Closing & Winterizing
$50-200
$75-300
$150-600
$300-500
$200-400
Every pool company is different and will provide varying services or specialize in certain systems or repairs.  It's important to shop around and find one that suits your needs so you can find the most affordable option.  In most cases you can get an up front quote for basic weekly or bi-weekly service and cleaning or special pool opening and closing packages. 
Weekly, Bi-Weekly and Monthly Pool Maintenance
The weekly, bi-weekly or monthly service will often include the following basic pool maintenance that will keep you pool running smoothly assuming there are no major upgrades or alterations needed:

Pool Cleaning
Water Testing and Balancing
Equipment Inspection
Maintain Water Levels
Filter Maintenance
In addition to basic pool maintenance your pool technical will provide recommendations for any addition work that might be needed.  Any additional work will be charged separately and may include any of the following:
Pool Inspection
Pump and Motor Repair
Heater Repair
Plumbing and Leak Repair
Liner Repair
Cover Repair
Upgrades and Installation
$50-100
$50-300
$50-400
$50-300
$50-150
$25-100
$50-2,000
Pool Opening Services
You will find that almost every pool company will offer a pool opening package or start up bundle.  It's the most important time of year for pool owners and the importance of getting your pool started properly can't be overstated.  It's the most important swimming pool maintenance cost you will invest in so if you aren't comfortable with pool chemistry we recommend hiring a professional. 
Remove and clean winter cover
Install ladders, grab rails and steps
Remove winter plugs and devices
Assemble equipment and check for leaks
Add and balance chemicals
Pool Closing Services
If you want to have an easy to open pool in the spring it's important to close or winterize your pool before it sits idle during the off season or winter.  A pool that isn't prepared for the winter can very quickly develop algae and other unhealthy pool problems.  A good winterizing routine is just as important as pool opening and will include the following services.
Chemical balancing
Final cleaning
Add winterizing chemicals
Lower water level
Hardware preparation and system drain
Removal of pool accessories
Install winter cover
If you have any questions about what a pool service company provides it's important to ask before you agree to anything.  If you want to keep your swimming pool maintenance cost down you can do all or part of your pool upkeep but keep in mind that a healthy pool will ensure your family enjoys your investment and will also ensure that it lasts a long time without costly repairs. 
SWPS Home Page
>
Salt Water Pool Maintenance