Swimming Pool Accessories
Swimming pool accessories are the extra things that create that unique and fun pool experience. Whether it's an inflatable lounger to float and relax on during a hot summer day or a 360 degree twisting water slide that will get your adrenaline pumping there is something for everyone. Investing in some simple accessories will add to the enjoyment of your pool, ensure family and friends have a safe experience and a ton of fun. Host a get together or party in your back yard and impress your friends, family or coworkers.

Use your imagination and add those special additions that will help create a backyard oasis for your children, family and friends. Imagine adding lights to light up your pool and surrounding area in different colors or a sound system that brings your favorite music outside to your pool. Even a waterfall that accents your pool is achievable for less effort than you might think with the many options in pool lighting available that operate with the touch of a button.
Swimming Pool Accessories Options
Basic swimming pool accessories like steps and ladders enable easy access in and out of your pool. It depends on your individual needs but many options are available from simple three step, stainless steel in-pool ladders for basic use to a fully automated, commercial grade lift for elderly and handicapped pool users. Safety is an important consideration and all accessories have safety in mind.  The slides we offer are built with several safety features and are evident in the design.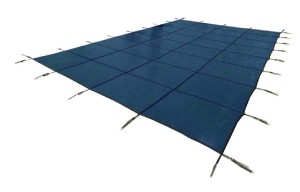 Inground pool covers will help keep dirt, debris and critters out of your pool while preventing water evaporation. An added benefits is you can limit water temperature changes by providing a virtual blanket over the water to protect it from changing ambient air temperatures.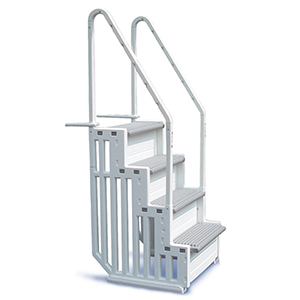 Inground pool steps are designed with stability and easy access in mind. They allow children, seniors or anyone a safe and sturdy way to get in or out of your salt water pool. The steps rest on the bottom of your pool and can be filled with sand for added stability.
Swimming pool ladders allow anyone using your pool to get in or out whenever they want. Ladders range from a simple stainless steel step design to a complex a-frame ladder with a locking gate that will prevent children and small pets from getting in an above ground pool.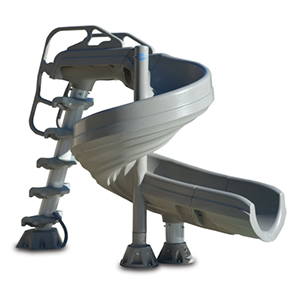 Inground pool slides will add fun, excitement and turn your pool into a water playground. Several designs are available that range from a small slide for children to a 360 degree twisting thrill ride. After placing the slide in an appropriate spot on your pool deck simply add water and enjoy!
Add excitement and the thrills of perfecting a dive with a quality pool diving board. There are many options available from jump boards to diving stands. Whether you are just starting out or want to learn how to do a triple back flip there is a board for everyone.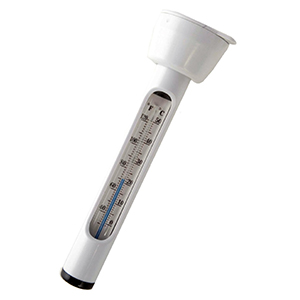 A pool thermometer will make reading and maintaining the temperature of your pool water extremely simple and accurate. A wireless or digital thermometer transmits data in real time to a remote display console that can be monitored from the comfort of your home. 
Swimming pool art decals will add a touch of elegance and create a unique pool environment that will be sure to impress your family and friends. A mosaic of swimming dolphins or a sea turtle will transform your pool from ordinary to extraordinary. 
A handicap pool lift offers the ultimate in pool accessibility. With a chair lift you can make sure that literally anyone can get in and out of your pool safely and in comfort. Lifts are available that can handle weights up to 300 lbs so you can be confident anyone with special needs will be able to enjoy your salt water pool.
Baby pool toys are great for introducing babies and toddlers to your swimming pool in a safe and supervised manner. Floats and other baby friendly toys are available in many shapes, sizes and colors so you can be sure to find something that you will both enjoy!
Solar pool rings are a great way to supplement traditional heating methods. The inflatable circular rings float on the pool water surface converting solar energy into heat for your pool when exposed to direct sunlight. It's recommended to have at least half of your pool surface covered for noticeable heat.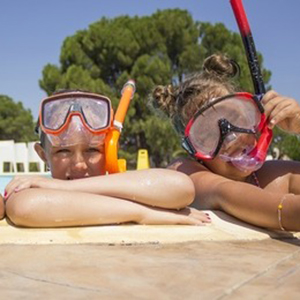 Pool party games are a great way to increase the enjoyment of your swimming pool. With bit of creativity and an attitude for fun these games will be sure to provide hours of fun in the sun. The classic game of Marco Polo and Sharks and Minnows can be played by children of all ages.
There are numerous swimming pool accessories and things you can do to add fun to your pool. We hope you found this information helpful and provides you with hours of fun!
---
---
---
---
---
---
Disclaimer
Please use all appropriate and proper safety precautions when attempting projects on this website. All projects are attempted at the reader's own risk.
Salt Water Pool and Spa™ participates in the Amazon Services LLC Associates Program, as an Amazon Associate we may earn a commission from qualifying purchases.