---
---
---
Inground Pool Lighting
Inground pool lighting will bring your pool to life with the many options available that include vivid light shows or relaxing, tranquil colour displays.  You can be sure that they will enhance your swimming experience and create that perfect ambiance for that special occasion.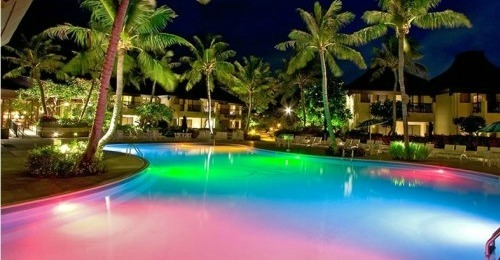 A soothing green or blue color that will turn your entire pool or spa into a haven of relaxation.  Or set the lights to change color and cycle through a breathtaking lightshow with up to one thousand color combinations.  The traditional incandescent white light is still a favorite for a neutral and steady light source.
Light emitting diode or LED pool lighting is growing in popularity for the energy efficiency and brilliant coloring.  When compared to tradition lighting they use up to 80% less energy, which means substantial savings.  Solar pool lights are available that operates entirely on energy from the sun.  This form of lighting is available for both inground and above ground pools and floats on the surface of the water.  The solar light collects energy during the day and provides several hours of light after the sun goes down at night.

If you are looking for lighting for around your pool there are several options available.  Deck lighting will keep your deck lit up and visible for anyone using your pool at night.  Motion sensor lighting is an energy efficient way to light up your pool area only during times of use.
If you are looking to upgrade your existing inground pool lighting there are replacement bulbs and light kits available.  It will depend on your existing light set up but some kits will require professional installation.  If you are merely replacing a bulb, ensure you find the correct replacement light that works with your existing light system.
Lights are available for many applications around your pool whether it's underwater lighting, floating lights, deck lighting, or even motion sensor lighting.  One or a combination of these lighting options will bring life to you pool and surrounding area that will allow the fun to extend into the night.
Inground Pool Lighting Options
There are countless options when considering inground pool lighting for your salt water pool.  In most cases you can get as creative as you want and will be able to suit almost any backyard pool set up.  If you have an existing pool you will have to take into account your current electrical capabilities and limitations.  An electrician or expert should be consulted before making any major changes to ensure compatibility and safety of the system you are considering.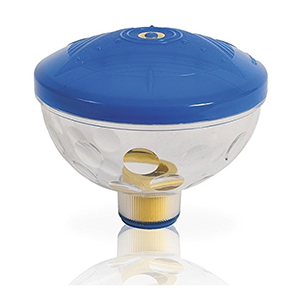 Solar pool lights float on the surface of the water and charge during the day using free energy from the sun.  They in turn provide free lighting in the evening and at night for several hours.  Simply let it float in your pool and watch it automatically turn on to brilliant colours.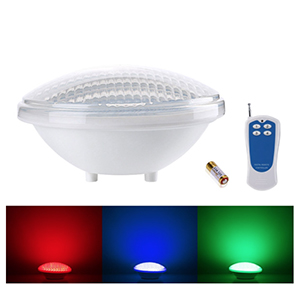 If you want to add vibrant color combinations to your pool or just save money by using up to 80% less energy, LED pool lights are a great choice.  The richness and bright colour that light emitting diode lighting creates is unmatched.
Add a touch of elegance to your backyard pool area with a fiber optic pool lighting.  The versatility makes this type of lighting so fantastic.  You can create amazing light displays and program it to change with the push of a button.  Brilliant lighting is at your fingertips.
Pool light bulbs are available in all shapes and sizes.  It's important to check for compatibility with your existing lighting system to ensure they function properly.  Whether you're replacing an existing bulb or designing your own masterpiece check them out.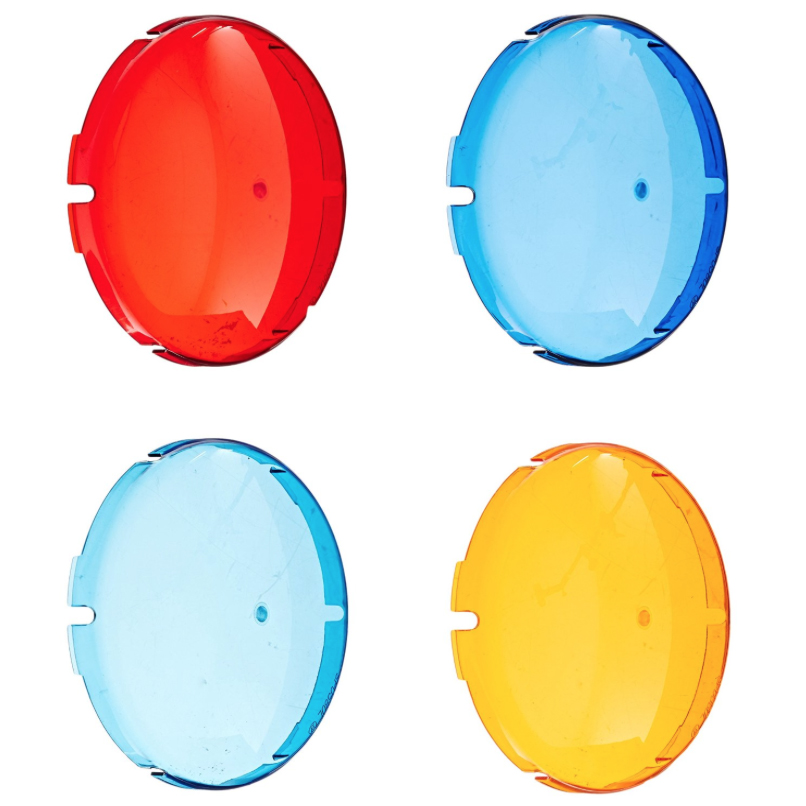 If you want to transform your white incandescent light into an assortment of dazzling colors, pool light covers are an easy and low cost answer.  Snap on a color lens and transform your pool into a water paradise with a soothing blue or vibrant red.  Inground pool lighting will take a creative turn with the use of light covers.
Inground pool lighting is available in many shapes and sizes and allows for complete customization of you salt water pool.  Whether it's a simple floating light or a complex fiber optic system you will be able to create the perfect light set up. 
---
---
---
---
Disclaimer
Please use all appropriate and proper safety precautions when attempting projects on this website. All projects are attempted at the reader's own risk.
Salt Water Pool and Spa™ participates in the Amazon Services LLC Associates Program, as an Amazon Associate we may earn a commission from qualifying purchases.