---
Salt Water Above Ground Pools
A salt water above ground pool is an excellent choice if you are upgrading your current pool or purchasing a brand new pool package. All the benefits of salt water including soft, silky water, reduced chemical balancing and low maintenance are combined with the convenience and affordability of an above ground pool. If you are in the market for an above ground salt water system or a complete salt water pool kit we'll take you through the options available. 
It's never been easier or more affordable to own an above ground salt water pool. If you already have an existing pool the only thing you need to convert to salt water is a system that ranges in price from $150 - $700, depending on the size of your pool. If you don't have a pool there are affordable kits that come with everything you need to get started for around $500 - $1,500.
Above ground pools offer the flexibility of being suitable for almost any backyard and with the variety of shapes and sizes it ensures a fit almost anywhere. Whether it's tucked away in a quiet corner or attached to an elaborate deck the versatility make them a better choice for some home owner's whether it's due to space limitation or cost. 
Salt Water Above Ground Pool Kits 

If you don't already own a pool there are complete salt water above ground pool kits that make it easy to bring the luxury of salt water to your backyard. The pool kit packages take the guesswork out of compatibility and sizing so you can simply set up and enjoy. They are easy to assemble and take less than an hour to set up without any special tools. The simple construction also allows you to pack up and transport the pool if you are renting or want to take the pool with you when you move. 
---
Salt Water Above Ground Pool Systems
If you are converting an above ground pool you have two options when purchasing a salt water system. You can purchase only a salt system that should work with the existing pump and filter assuming that they are sized correctly for your pool. The second option is to purchase a bundle that includes the system, pump and filter that comes with the peace of mind knowing they are designed to work together for maximum efficiency. 

The most important consideration when choosing a system is making sure it is sized properly for your pool. All systems will have a maximum rating in gallons determined by how much chlorine they can produce. It's a good idea to purchase a unit that exceeds the size of your pool by 25%. This will ensure that you are able to produce enough chlorine during times of high chlorine demand like higher bather load, extreme temperatures and heavy rainfall.
Salt System Only
Salt System with Sand Filter and Pump
Converting an Above Ground Pool to Salt Water
Converting an above ground pool to salt water is actually very simple. The addition of the salt system to your pool system involves plumbing the chlorine generator into your existing plumbing. You don't need to drain your pool water, it's just a matter of adding the recommended amount of salt to the pool 24 hours before running the salt system. 
If you would like more information about calculating how much salt to add including the type of salt that's best for your pool visit our pool salt page. 
Salt Water Above Ground Pool Maintenance
All pools require maintenance and a salt water pool is no different, but you will notice it's a lot easier to keep the water clean and balanced than a regular pool. At the start of any pool season or when first setting up your pool there are a few steps that need to be followed to ensure you create a healthy pool. If you are new to salt water systems be sure to check out our above ground pool opening page for tips and advice from our pool experts. 
At the end of the season a proper pool closing routine will save you a lot of time in the spring when it's time to start enjoying your salt water above ground pool again. If you want more information with step-by-step instructions on how to close your salt water above ground pool be sure to read our winterizing above ground pool page. 

Above Ground Pool Accessories
A salt water above ground pool just isn't complete without some of the accessories that are available. If you want more information about any of the many options on the market today be sure to follow the links below.  We've got information about products like robot vacuums and lighting as well as some great advice for adding some fun with a pool slide. 
There are numerous options designed specifically for above ground applications. These include practical additions like a heater if you live in a cooler climate and want to extend your pool season or steps for increased accessibility. 

The pump is what circulates water through you pool and salt water system. A pump and filter combo designed for above ground pools is smaller and operates on less electricity than an inground pump. 
If you live in a colder climate and want to extend your swimming season there are many great heating options available. Since above ground pools are generally smaller in size and volume it's going to be a bit easier to heat your pool.

A vacuum designed for above ground pools is essential to keeping it clean all season long. Part of a creating that perfect salt water above ground pool is keeping it crystal clean and a good vacuum cleaner will get the job done.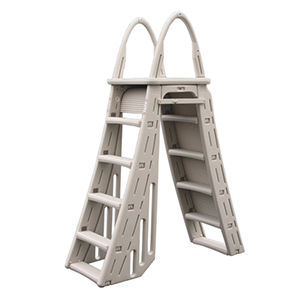 An above ground pool ladder allows for easy accessibility whether it's from the ground or a pool deck. A good ladder should be sturdy and allow for safe entry and exiting from your pool. 
If a ladder doesn't do the trick you could consider steps for accessibility. Whether the steps are used inside the pool or outside there are many options. It's also a good idea to keep safety in mind if you have children or pets.

If you've waited for your pool to heat up for days and want to keep it warm a cover will help keep a lot of that heat in during the cooler nighttime hours. It will also keep dirt and debris out of your pool. 

If you want to enjoy your pool into the nighttime hours or want to create a unique look above ground lighting will allow you to be creative with the added benefit of adding safety to your pool.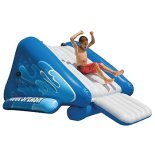 The ultimate in fun for salt water above ground pools is a water slide. A slide designed for your above ground pool will provide hours of fun and enjoyment. A slide may require an attached deck. 
SWPS Home Page
---
---
Disclaimer
Please use all appropriate and proper safety precautions when attempting projects on this website. All projects are attempted at the reader's own risk. 
Salt Water Pool and Spa™ participates in various affiliate programs, including Amazon Services LLC Associate Program, as an Amazon Associate we may earn a commission from qualifying purchases. 
---