Salt Water Above Ground Pools
Salt Water Above Ground Pools
A salt water above ground pool is an excellent choice if you are upgrading your current chemical chlorine pool or purchasing a brand new pool package. All the benefits of salt water including soft silky water, reduced chemical usage and incredibly low maintenance are combined with the convenience and affordability of an above ground pool. Whether you are in the market for an above ground salt water system to upgrade an existing chemical chlorine pool you already own or you want to purchase a top rated complete salt water pool kit we'll take you through the options available. 
It's never been easier or more affordable to own your own above ground salt water pool. A basic salt water pool system for large rectangular above ground pools will range in price from $400 to $1200, depending on the size rating. If you don't have a pool and you want to buy a convenient above ground salt water pool kit you will be able to enjoy all the benefits of salt water for about $3,000, a fraction of what it would cost for an inground salt water pool.
---
Salt Water Above Ground Pool Kit 

A complete salt water above ground pool kit consists of a uniquely designed locking frame system made from sturdy galvanized steel. The inner and outer powder coating means you can count on rust resistance and enjoy your investment for many years. Where the salt water kit differs from the regular pools is the included salt water system and sand filter pump which work seamlessly together to keep the pool silky soft and safe. Pool kits will also include a ladder, ground cloth and pool cover all designed to optimize the pools performance. 
Above ground pools offer the flexibility of being suitable for just about any backyard as the pool area is levelled. The range of sizes means you can purchase a pool that fits both your yard and budget. Whether it's tucked away in a quiet corner or attached to an elaborate deck the versatility make them a better choice for some home owner's whether it's due to space limitations or budget. The numerous above ground pool accessories will help create the perfect backyard escape. 
Intex XTR Salt Water Above Ground Pool Kit
The Intex XTR Above Ground Salt Water Pool takes the guesswork out of compatibility and sizing so you can simply set up and enjoy. It's super easy to assemble, setting up in less than an hour with no special tools. The simple construction allows you to pack up and transport the pool if you are renting or when you move. This salt water pool kit comes in two sizes; 24ft x 12ft x 52in and 32ft x 16ft x 52 in. An above ground pool cover will increase energy efficiency and reduce heating costs.
---
Intex Ultra XTR Above Ground Pool with Salt Water System
The Intex Ultra XTR Above Ground Salt Water Pool Kit with everything you need to get swimming in salt water. 
---
If you click on this link and make a purchase, we may earn a commission.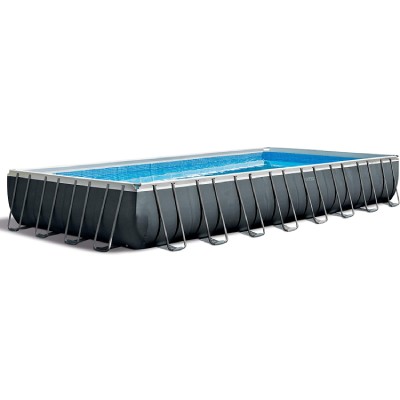 ---
---
---
---
---
What's Included
Pool Frame. The pool frame is made from highly durable galvanized steel and coated with a rust resistant coating. It stays together with a uniquely engineered locking system for the utmost in durability and stability.
Salt System. The salt system sets it apart from a regular chemical chlorine pool. It will naturally convert salt water into chlorine any time the pump is operating.
Pump & Sand Filter. The pump and sand filter are the same as you would find in a regular chemical chlorine pool and operate exactly the same, which is why converting to salt water is so easy. 
Deluxe Cleaning Kit. A cleaning kit designed for above ground pools will allow you to keep the pool clean throughout the year, usually consisting of a skimmer and brush.
Ladder. An overhang ladder that's perfect for above ground pools where no deck is installed will allow for convenient entering and exiting of the pool and increasing safety.
Debris Cover. A pool cover is a necessity because of its ability to keep debris and bugs out, while keeping heat energy in the pool during cool nights.
Ground Cloth. A ground cloth will help protect the underside of the pool from abrasions and general wear. This is especially important if your salt water above ground pool is sitting on a rough or not smooth surface. 
---
Intex Ultra XTR Round Above Ground Pool with Sand Filter
---
If you click on this link and make a purchase, we may earn a commission.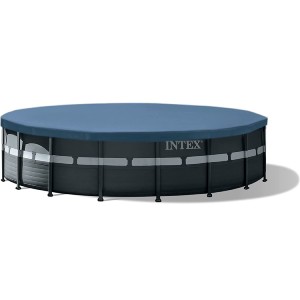 ---
What's Not Included
Salt. Every salt water pool needs salt to produce chlorine and it's what gives it the soft, silky, smooth feel that refreshes your skin instead of irritating it.
Test Kit. In order to keep your salt water pool running smoothly, it should be tested and maintained regularly. A test kit that includes a salinity test will give you the ability to maintain your above ground salt water pool yourself.
Balancing Chemicals. A salt water pool requires a lot less maintenance than a regular pool but you will still need to occasionally adjust the pH, Alkalinity and potentially a shock in the spring and fall.
Vacuum. A vacuum will do an amazing job of keeping debris off the pool floor and even walls. You may want to try an automated pool cleaner for the ultimate in convenience.
Heater. An above ground pool heater is a solar device that converts the suns energy into heat energy that slowly raises the temperature of the pool water over time. 
Slide. If you want to add a bit of fun and excitement to any pool, a slide will do the trick. Whether you have an adjacent deck or not, you will be able to find a slide that works with your specific pool and yard.
Lighting. Pool lighting is the easiest and most affordable way to extend how many hours you can enjoy the pool. There's nothing better than a relaxing night time swim with the ambiance of soft lighting. 
Salt Water Above Ground Pool Systems
The following salt water pool systems include a complete system that is ready to be retrofitted to any above ground pool up to 15,000 gallons. If you have an existing pump and filter, either cartridge or sand, you can simply add a stand-alone salt water system to the pools circulation. Whether you are adding a complete salt water above ground pool system, filter pump or only the salt system be sure to choose the model that is rated for your specific pool gallonage and subsequent flow rate to ensure proper turnover and circulation requirements. 
Intex Krystal Clear Complete Salt Water System
The Intex Krystal Clear Complete Salt Water System comes with everything you need to transform any above ground pool up to 15,000 gallons in size to luxurious salt water. This unit is designed to make salt water a reality without the hassle of adding chemical chlorine with the added benefit of reduced maintenance time and costs. The many automated features and the Hydro Aeration Technology provide improved circulation, micro filtration and amazing water clarity, all backed by a 2 year manufacturer's warranty. 
Intex Sand Filter Pump 
The Intex Sand Filter Pump comes in various sizes rated for above ground pools up to 19,600 gallons in water volume size. A sand filter is the preferred method of filtration for salt water pools so you can be assured of crystal clear water and less hassle than a regular chemical chlorine swimming pool. The controls include six functions; filter, backwash, rinse, re-circulate, drain and close system. Includes strainer basket and 25 foot power cord for expanded reach to anywhere in your yard.  
Intex Cartridge Filter Pump 
The Intex Krystal Clear Cartridge Filter Pump is designed for small to medium sized above ground pools up to 15,200 gallons in size. It's super easy to install by attaching the 1.5" hose fittings to your existing system. This unit has a maximum flow rate of 1,900 gallons per hour and comes with a timer that can be preset to operate on 2 to 12 hour cycles. Includes one replaceable filter that should be cleaned or replace every 2-4 weeks depending on usage. 
Intex Krystal Clear Salt Water System 
The Intex Krystal Clear Salt Water System when combined with a sand or cartridge filter and pump will transform an existing above ground pool up to 15,000 gallons into a silky soft salt water pool. Enjoy sparkling clear water with no chemical smell and say good bye to red burning eyes, faded swimsuits and hair discoloration. This system is a standalone salt water chlorine generator that can be added to any existing above ground pool, pump and either sand or cartridge filter. 
Converting an Above Ground Pool to Salt Water
When converting an above ground pool to salt water there are a few things you'll need to do like adding pool salt. The first is to determine the size of pool you currently have in gallons, since the filter, pump and salt water systems are rated based on the size or volume they can handle. Each component you purchase should be rated for your specific pool size, and we recommend purchasing units that can handle a larger pool than you own to ensure adequate circulation and handle increased sanitation needs when they arise.
Most above ground pools use 1.5" hoses but if you have 1.25" hoses you will need to purchase hose adapters specifically designed for above ground pools and salt water systems. This may also be necessary if you are upgrading to a larger filter pump system that requires increased circulation and movement of water. 
After you've installed the complete salt water system or just the salt system to your existing filter pump it's time to add salt to the pool water so the magic of chlorine generation can begin. You don't need to drain your pool water, it's just a matter of adding the appropriate amount of pool salt to the water as required by your specific salt chlorine generator. The salt water pool conversion process should be followed and then allow your pool water to circulate at least 24 hours before turning the chlorine generator on.
Salt Water Above Ground Pool Maintenance
All pools require maintenance and a salt water pool is no different but you will notice it's a lot easier to keep the water clean and balanced. At the start of any pool season or when first setting up your pool there are a few steps that need to be followed to ensure you create a healthy pool. If you are new to salt water systems be sure to check out our above ground pool opening page for tips and advice from our pool experts. 
At the end of the season a proper pool closing routine will save you a lot of time in the spring when it's time to start enjoying your salt water above ground pool again. If you want more information with step-by-step instructions on how to close your salt water above ground pool be sure to read our winterizing above ground pool page. 
---
Taylor Technologies Salt Water Test Kit K2005-Salt
---
If you click on this link and make a purchase, we may earn a commission.
---
Above Ground Pool Accessories
A salt water above ground pool just isn't complete without some of the accessories that are available. We've got information about products like robot vacuums and lighting as well as some great advice for adding some fun with a pool slide. There are numerous options designed specifically for above ground applications that will increase comfort and fun. You may also want to add a solar pool heater or two if you live in a cooler climate and want to enjoy nice warm water or extend your pool season. You may want to consider adding over-wall steps for increased accessibility for children or elderly family members. 
---
---
---
---
---
---
Disclaimer
Please use all appropriate and proper safety precautions when attempting projects on this website. All projects are attempted at the reader's own risk.
Salt Water Pool and Spa™ participates in the Amazon Services LLC Associates Program, as an Amazon Associate we may earn a commission from qualifying purchases.