---
---
Above Ground Pool Ladders
Above ground pool ladders usually aren't given much thought but they play a very important role in the overall function of your pool. In most above ground pools a ladder is the only way to enter or exit your pool whether it's an a-frame to straddle the pool wall or an in-pool ladder if you have a hard deck surround. A ladder gets used frequently and needs to stand up to years of use and provides an extra layer to your overall pool safety.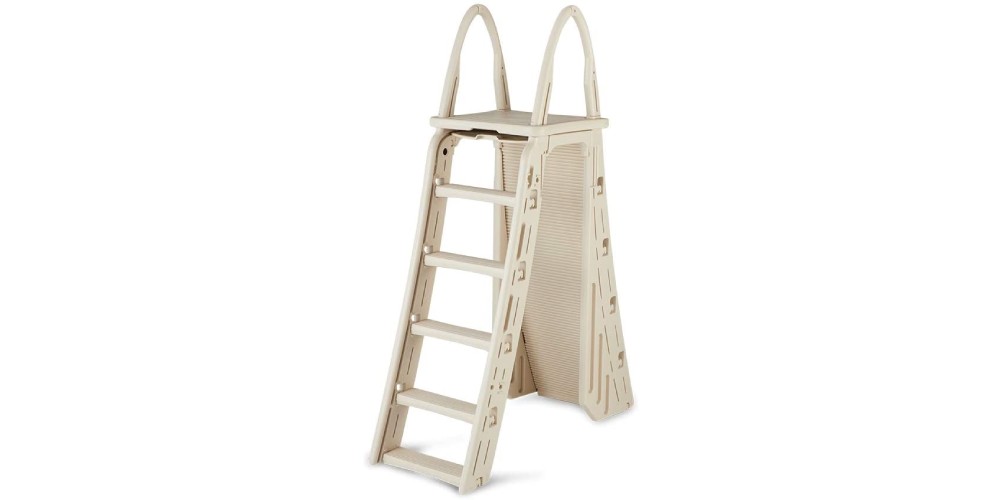 A ladder should be designed to withstand substantial wear and tear, stand up to harsh weather conditions, and resist corrosion from constantly being submerged in water. Above ground pool ladders are available in a variety of sturdy materials including steel, fiberglass and composite plastic. There are also a variety of sizes, styles and shapes with each serving a unique function. A ladder should be suited to your specific pool depending whether you have a hard deck surround or a soft edge.   
---
---
---
Types of Above Ground Pool Ladder
There are a few options available that will suit the unique design of your pool, and adjacent deck or structure. They vary in a number of aspects including; height, color, stair width and some even have a handrail for added support. Most ladders are very easy to install and take only minutes to set up and begin to use. The most difficult part for a pool owner is choosing the right ladder, an improper ladder can potentially lead to accidental falls.

A-Frame Above Ground Pool Ladders
An a-frame pool ladder is the most versatile ladder and ideal for above ground pools that don't have a deck. It's named for its shape and is designed to provide a stepping structure to get both up and over the pool wall. They require a stable surface both on the outside edge of the pool and inside the pool. Since this type of ladder bears the most weight at the base of the structure, we highly recommend using protective ladder mat under the pool ladder on the pool side to prevent damage to the floor liner. 
Confer Plastics A-Frame Pool Ladder
The Confer Plastics A-Frame Pool Ladder is versatile option that will provide sturdy and reliable accessibility to any above ground pool that doesn't have an attached deck. It adjusts to fit pool walls ranging in height from 48 to 54 inches tall and isn equipped with large 18 by 5 inch treaded steps. It features a handy handrail and can handle weights up to 300 pounds. The lockable roll guard barrier will prevent anyone using the ladder without supervision. It's not recommended for Intex, inflatable or pop-up style pools. 
Intex A-Frame Above Ground Pool Ladder
The Intex A-Frame Pool Ladder is designed for pool walls 52 inches in height. It features a wide base that makes them safe to use with Intex above ground pools. The coated steel frame makes them suitable for submersion in pool water and lends them to being able to stand up to harsh weather conditions throughout the pool season. The increased stability includes hi-impact composite steps that have been improved upon in recent years. This ladder has a maximum weight capacity of 300 pounds. 
Vinyl Works A-Frame Pool Ladder
The Vinyl Works A Frame Pool Ladder features a stability handrail and safety barrier to increase the usability and safety of your above ground pool. The extra wide steps make this a great choice for children and elderly pool owners that require extra stability when stepping in and out of the pool. Like the other ladders that made our list of the best above ground pool ladders this ladder can support weights up to 300 pounds. 
In-Pool Above Ground Ladders
In-pool ladders have steps on one side only and are ideal for above ground pools that have an attached deck.  They provide a means to climb out of your pool safely and up onto a deck (or similar) that is at the level of the top rail of your swimming pool. In most cases these ladders are very easy to assemble and set up and include all the necessary hardware needed to attach to your pool or adjacent deck.

Confer Heavy Duty In-Pool Ladder
If you are looking for a reliable ladder that won't fade, rust or corrode the Confer Heavy Duty In-Pool Ladder is ideal for your above ground pool if you have a solid supporting deck structure. The ladder will adjust to pool wall heights ranging from 48 to 54 inches and the added support rails ensure a safe decent into your watery oasis or when climbing out after a refreshing swim. This ladder meets ANSI and APSP barrier equipment safety ratings so you can keep children out of the pool when there's no supervision. 
Blue Wave In-Pool Above Ground Ladder
The Blue Wave In-Pool Ladder for above ground pools features an all resin construction that won't rust or corrode even in pools that sway out of balance that can be hard on ladders. The 5 deep tread design and make it easier and safer to climb in and out of your pool with ease. It's equipped with a child proof barrier that meets all ANSI and APST safety codes so you can count on added peace of mind. It adjusts to fit pool walls with a height of 48 to 54 inches and supports up to 300 pounds weight. 
If you require increased accessibility you might want to consider above ground pool steps that also have sturdy handrails with the added support of larger steps. They provide a wider, safer and more convenient way to enter or exit your pool ideal for elderly or physically challenged. The step sits on the pool bottom allowing step access from the pool bottom to the top edge of the pool or deck. When considering purchasing above ground pool ladders or steps pay attention to the size and dimensions.
Disclaimer
Please use all appropriate and proper safety precautions when attempting projects on this website. All projects are attempted at the reader's own risk. 
Salt Water Pool and Spa™ participates in various affiliate programs, including Amazon Services LLC Associate Program, as an Amazon Associate we may earn a commission from qualifying purchases. 
---
---
---