---
Above Ground Pool Ladders
Above ground pool ladders usually aren't given much thought but they play a very important role in the overall function and safety of your salt water pool.  In most above ground pools, a ladder is the only way to enter or exit your pool. This means that the ladder gets used frequently and needs to be sturdy and also provide an important layer of safety for your pool.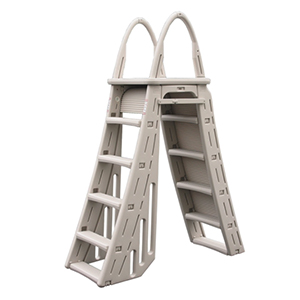 Confer Plastics A-Frame Above Ground Pool Ladder
 A ladder will have to withstand substantial wear and tear, stand up to harsh weather conditions, and resist corrosion from constantly being submerged in water.  This makes it important to find a ladder that will last many years and stand up to the daily use from anyone enjoying your pool. 
Above ground ladders are available in a variety of sturdy materials including steel, fiberglass and plastic.  There are also a variety of sizes, styles and shapes with each serving a unique function.  They will vary in almost every aspect including; height, color, stair width and size of handrail.

Most ladders are very easy to install and take only minutes to set up and begin to use. The difficult part is choosing the right ladder for your pool. If a ladder is not chosen properly for the pool, accidents and injuries can occur.  Choosing the right ladder will help prevent accidents and allow years of safe use.
Above Ground Pool Ladder Options
There are a few options available that will sure to suit the unique design of your pool, and adjacent deck or similar structure. 
An A frame pool ladder is a ladder constructed in the shape of an "A".  They are designed for above ground pools that don't have a deck that require steps on both sides of the pool wall.  The shape provides a sturdy base that can withstand a substantial amount of weight and acts as a layer of security.

Another option are above ground pool steps that have sturdy handrails and increased stability.  The step sits on the pool bottom allowing step access from the pool bottom to the top edge of the pool or deck.  They provide a wider, safer and more convenient way to enter or exit your pool ideal for elderly or physically challenged.

In-pool ladders have steps on one side only and are ideal for above ground pools that have an attached deck.  They provide a means to climb out of your pool safely and up onto a deck (or similar) that is at the level of the top rail of your swimming pool. In most cases these ladders are very easy to assemble and set up and include all the necessary hardware needed to attach to your pool or adjacent deck.
When considering purchasing above ground pool ladders pay attention to the size and dimensions.  Quite often ladders are built with common measurements but every pool is unique.  A little time spent ensuring the proper dimensions could save a lot of headaches down the road.
SWPS Home Page
>
Salt Water Above Ground Pool
---