Salt Water Pool Systems
Salt water pool systems are steadily becoming the number one choice for pool owners around the world. The chlorine generators on the market today allow for complete automation of your pool sanitation including self monitoring and automatic chemical balancing. If you are in the market for a pool upgrade we'll explain everything you need to know about the best salt water pool systems including how they work and how to install them in a new or existing pool.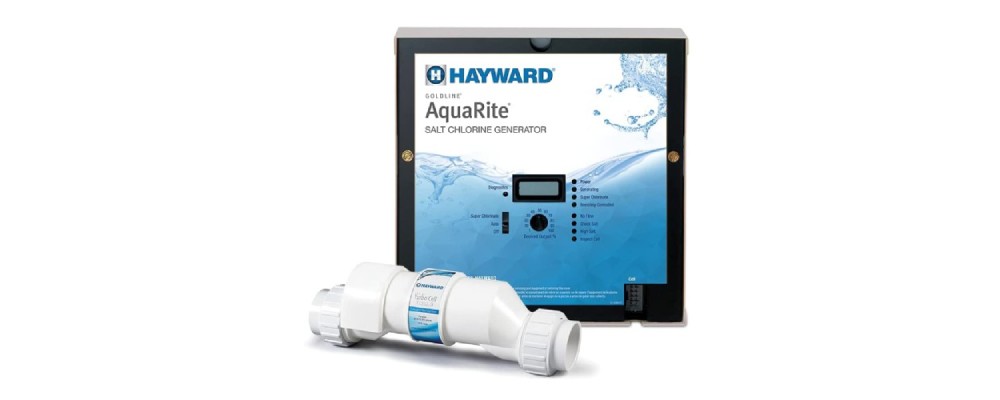 There are many benefits to salt water chlorination that can best be understood by by first explaining the basics about how a salt water pool system works. Unlike traditional chlorine pools that require chlorine pucks or jugs of chemical chlorine to maintain sanitary conditions, you will be creating your own chlorine continuously and naturally from the salt in your pool water.
---
The Complete Guide to Salt Water Pool Maintenance

Everything you need to know to maintain your salt water pool and keep it running smoothly all season.

---

---
---
---
Salt Water Pool Systems Explained
The salt water is gentle on your skin and entire body which means you won't experience red or irritated eyes and you won't feel sticky after a swim. In addition to the health benefits you can expect lowering operating costs by up to 50% and you will spend less time maintaining your pool because salt water is more stable. Your pool also won't produce as many nasty chloramines that can be irritating to skin and have a strong foul odour. 
There are many choices on the market today that range in size, price, features and performance that can be a bit confusing. It's very important to find the right system so you can be sure of years of hassle free enjoyment out of your pool. A salt water pool system consists of two main components; the control panel and salt cell or chlorine generator. In most models you can set up other devices like the pump, lighting or chemical dispenser to be completely automated from the control panel.
The salt cell is where the production of chlorine occurs by the process of electrolysis.  As the salt water passes through the cell it is charged by electricity which causes the salt molecules to break down into chlorine. This natural process can be repeated infinitely as long as everything is balanced in your pool including salinity. You should only have to add small amounts of salt on a yearly basis in addition to your pool being a lot easier to maintain.  
The features vary slightly with different models but you can expect your salt water system to monitor, regulate and carry out the following:
salt concentration and low salt indicator
chlorine production
flow detection
cell status including self-cleaning and replacement alerts
superchlorination (not a replacement for shocking but may be necessary during times of increased pool usage or extreme weather)
In addition to these basic functions there are advanced units that take pool automation to the next level. An automatic chemical feeder is an upgrade available with deluxe units that will take guessing and manual work out of chemical balancing. It's worth every penny because of the time you save maintaining your salt water pool as well as the money you save with the increased efficiency. 
Best Salt Water Pool Systems
We've put together a list of the best salt water pool systems we feel are the top rated on the market. It's based on comparison, cost, warranty and how complicated they are to operate. There are a lot of options out there that just don't deliver on usability, chlorine production and overall quality. If you are spending the time and money to upgrade your pool we recommend going with the industry leaders that specialize in salt water pools. 
Hayward Salt Water Pool Systems
The Hayward line of salt chlorination systems are hands down the best in the world. While other brands have seemingly stopped improving on the quality and performance, Hayward continues to develop new and improved models that last longer and are more user friendly.
The systems are all backed by a minimum 3 year warranty on the control box and 2 years for the salt cell. This is unmatched in the industry and proves that Hayward is taking their salt chlorination products seriously. They have the industry covered with basic systems that operate a single salt cell and advanced systems that offer chemistry automation, pool automation and remote control operation. 
Hayward Goldline AquaRite 
The Hayward AquaRite is the leading chlorination system in the world with over one million installations. The cost of the unit will pay for itself in as little as two years because you will never need to purchase chlorine pucks or jugs ever again. This unit is designed to chlorinate pools sized 15,000, 25,000 and 40,000 gallons depending on which cell you purchase.
Hayward Goldline AquaRite Chlorine Generator for up to 40,000 Gallon Pools

If you click on this link and make a purchase, we may earn a commission.
Hayward AquaRite Pro
The Hayward AquaRite Pro comes with everything you need to create luxuriously soft salt water with the option of adding pool chemistry automation with the Sense and Dispense device. It includes the T-cell 15 Turbo Cell that's rated for pools up to 40,000 gallons in size. It features an easy to use touch button control panel that gives you ultimate control over your pool system.
Hayward AquaPlus
The Hayward AquaPlus is the most advanced residential system on the market today, and is extremely user friendly while being cost effective. All pool functions are fully programmable and allow for complete pool automation of every device used to keep your salt water pool running smoothly. It comes equipped with an automatic ORP and pH sense that's compatible with the dispenser so you have one less thing to worry about. 
Pentair Salt Water Pool Systems 
The Pentair Intellichlor is an easy to install and compact unit with every feature you could ask for in a chlorine generator. Every function is operated on the cell with the push of a button and does not require a control panel for operation. Available for pools sized 10,000, 20,000 and 30,000 gallons. 
Pentair IntelliChlor IC40 Salt Chlorine Generator Cell 

If you click on this link and make a purchase, we may earn a commission.
CircuPool Salt Water Pool Systems
The CircuPool Universal chlorinator makes our list because it's easy to install, operate and overall very user-friendly. The control panel is easy to navigate and features reversing polarity which self cleans the cell automatically when the system is in use. This unit is available in three sizes and features digital controls and a titanium cell.
CircuPool Universal Saltwater Chlorine Generator System with Up to 40,000 Gallon Cell

If you click on this link and make a purchase, we may earn a commission.
---
Installing Salt Water Pool Systems
Installing salt water pool systems is a lot easier than you might think.  The first thing you need to do is determine the correct size for your specific pool. Systems are rated based on daily chlorine output and can provide enough chlorine for pool ranging from 30,000 - 125,000 gallons in size. If you own an above ground pool there are systems designed specifically for above ground salt water pools. 
The next thing you need to determine is the size of cell you need based on the gallonage of your pool. We highly recommend purchasing a unit with a cell that is at least 15% larger than what it's rated for. This will ensure you have enough production during times of high usage, extreme temperatures and when you need to superchlorinate.  
Salt Water Pool System Diagram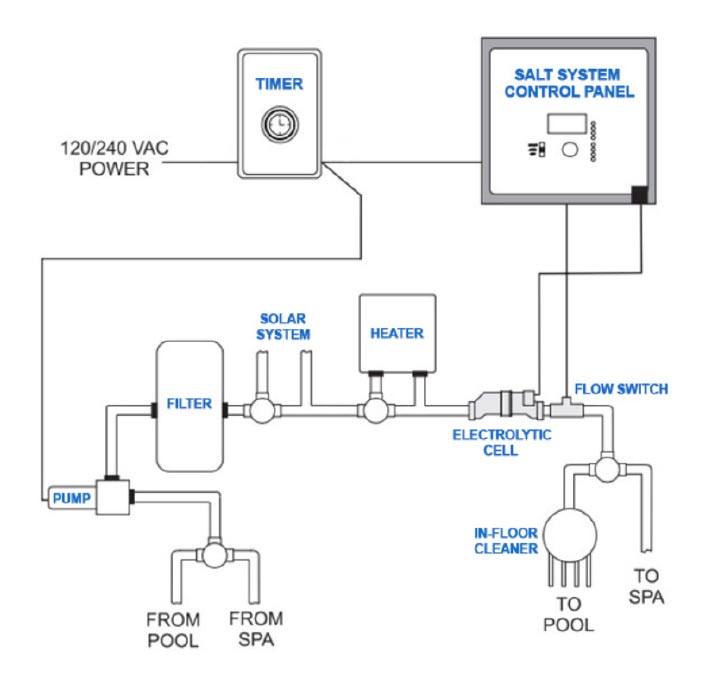 Salt systems can be integrated into chlorine pools by simply installing into your pool's existing plumbing system. If you would like more information about installation and converting your pool to salt water we recommend visiting our salt water pool conversion page that has helpful step-by-step instructions whether you are a handy pool owner or pool professional. 

Once the system is installed you will have to add natural pool salt to the pool water to get the salt concentration to the appropriate amount. The amount of salt needed will vary depending on the size of your pool and other factors that are unique to your geographic area. After you have added salt initially when you first convert your pool you will only need to add very little amounts every year. 
---
---
---
---
---
---
Disclaimer
Please use all appropriate and proper safety precautions when attempting projects on this website. All projects are attempted at the reader's own risk.
Salt Water Pool and Spa™ participates in the Amazon Services LLC Associates Program, as an Amazon Associate we may earn a commission from qualifying purchases.