Swim Spas
A swim spa is a hybrid or cross between a pool and a hot tub and boasts the best of both worlds. The relaxing hydrotherapy that you experience in a hot tub year round is meshed with the fun and fitness of a swimming pool all in one convenient and smaller product. These self-contained water treadmills or resistance pools have been around for decades but with recent advances in technology they are better and more affordable than ever. 
If you are like most people you are probably curious about what exactly a swim spa is and all the amazing things you can do including the incredible health benefits they provide. With the growing number or manufacturer's you can be sure to find almost any size, style or installation type you can imagine whether it's a fully inground pool or an above ground unit with a deck. 
What is a Swim Spa?
If you own a pool or a salt water hot tub or are familiar with the benefits of both, you will already have a good idea of what they are all about. The best features of each are combined into a reasonably priced, conveniently sized, easy to maintain pool that can be used year round even in colder climates in the United States and Canada. 
Even though the term swim spa might be new to you, after reading this page we promise you'll know exactly what they are and whether it's something that you want in your own backyard. If the idea of entertaining your family and friends, getting in a low-impact swim session and relaxing in your very own therapeutic massager all in the same place is appealing to you we encourage to keep reading!
They are sometimes referred to as resistance pools or exercise machines because they allow you to simulate swimming and other resistance activities in a relatively small area. The jets create a current that can be adjusted to your personal preference so you can swim at just the right speed. In addition to swimming you can also perform aqua aerobics exercises, resistance movements and even rowing. 
In the other side is where the hot tub aspect is designed into the swim spa. The two or four seat spa section is heated to the temperature of a hot tub and the jets create the ultimate in relaxation. Whether it's a therapeutic massage to unwind at the end of a work day or a hot muscle relaxation after a swim workout, you are able to enjoy the best of both worlds.
Saltron Mini Salt Chlorine Generator for Swim Spas up to 2000 Gallons

If you click on this link and make a purchase, we may earn a commission.
---
Types of Swim Spas
There are countless styles to choose from but the main difference you will find is in their size. The length of the swim side will vary as well as the amount of seating on the spa side.  In addition to the size, you will find that some unites separate the two sides so you can experience cooler swimming temperatures and warm spa temperatures. The downside is that each side of the spa needs its own circulation system and the price will be greater than a combined unit. 
With the many different styles you can find a unit that provides exactly what you are looking for all bundled in one affordable package. The following items are the major factors that set different types apart from others and it's worthing taking a minute to learn about them. 
1. Size and Zones
The smaller units typically start around 14 feet and are comprised of one zone or body of water. The temperature is often kept at around 86°F or 30°C which is a great happy medium for both swimming and relaxing. As the units get larger they approach 20 feet in length and is when you will start to find dual zone swim spas. This means that you can have your swim area cooler and the spa zone a lot warmer, which lends itself to a more enjoyable swim and relaxation time.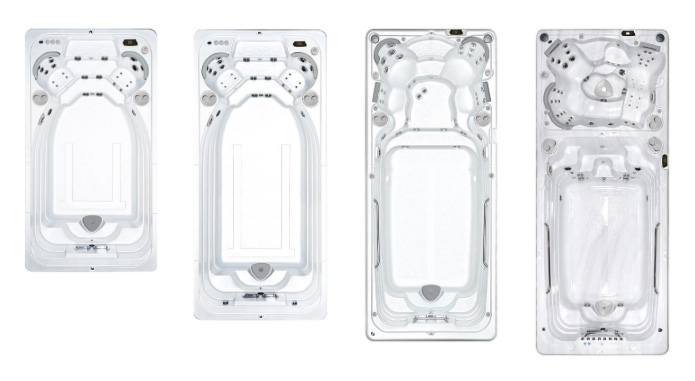 2. Salt Water and Sanitation Systems
There are three main types of sanitation systems you will find and you will be happy to know that salt water swim spas are available and being enjoyed all over the world. All the benefits of salt water technology are found in these units so you can experience the comfort and soothing effects of salt water and lower levels of chlorine while enjoying your swim or lounge experience. 
The alternate methods to salt water technology are traditional chemical chlorine additive systems in the form of chemical feeders. Another option that is sometimes used in tandem with salt water are mineral sanitizers. 
3. Installation and Location
The choice of installation will largely depend on the limits and layout of your backyard. If one of your reasons for purchasing a swim spa is because of the convenient size, you will want to use a style that works with the architecture of your existing landscape. The three main types of pools you will find are:
Fully Inground
Partially Inground
Fully Above Ground
There are several types available and once you have an idea of your space limitations and the styles you can choose from, it should make it a lot easier choosing the right one for you. The latest models are fully self-contained units that include skirting for above ground applications that can be placed just about anywhere you want. 
Fiberglass composite, acrylic and modular units are also available. Modular units are popular for their versatility that allows them to be installed indoors. The components can be fit through existing doorways or carried down stairs. 
4. Jets
The jets can't be overlooked because they are what creates the current or resistance in an endless swimming pool. They also provide the therapeutic massage and provide circulation to keep the spa water clean and sanitized. 
The swim side jets are important for determining the type of stream you desire. Whether you want a current that is strong enough to mimic white water rafting ideal for an advanced athlete or a current for low level resistance exercises, you have a choice in different styles. You might also find jets designed for buoyancy are great for persons with disabilities or the elderly. 
Swim Spa Benefits 
So why would you choose a swim spa over a pool or a hot tub? The biggest advantage is that everything is in one convenient place, you get the functionality of a pool with the therapeutic effects of a hot tub. If space is an issue you can be certain to find room in just about any backyard where an above ground pool has been the only option. Let's take a look at how you can have the ultimate backyard aquatic center and operate it year round for only pennies a day. 
Self Cleaning Systems
The low maintenance self contained circulation and sanitizing means less time looking after your pool and more time to enjoy it. The ergonomic design means more water turnover and the latest and best in pool filtration will keep your spa water clean and sanitized at all times. 
Insulation and Safety
Many of the best swim spas come with advanced thermoshield insulation that is even approved for strict California state energy requirements. You can count on energy efficient in the shell as well as the locking, solid safety hard cover that lends these units to also being environmentally friendly. A 5-10 year warranty is standard with most spas so you can purchase with confidence. 
Versatility
A pool or hot tub each has their own unique uses but with a swim spa you can really get creative. If staying in shape through resistance exercises or fitness is appealing you can equip your spa with exercise bands or rods and even a rowing kit. Activities that you could only enjoy on the open water can be enjoyed in your own backyard whether it's boogy boarding or the exhilaration of a wave pool.  
The therapeutic massage and aromatherapy of a relaxing hot tub round out some of the great things you can do with these state of the art units. There are units that have in excess of 100 jets that massage, soothe and create a relaxing ambiance. 
Lighting and Audio
A pool wouldn't be compete without a great audio system or energizing light effects. The full experience is enhanced with built-in speakers and LED lighting that works synonymously with water effects. A universal remote gives you control in the palm of your hands and with the latest in pool automation you can control every aspect of your swim spa from anywhere in the world!
---
---
---
---
---
---
Disclaimer
Please use all appropriate and proper safety precautions when attempting projects on this website. All projects are attempted at the reader's own risk.
Salt Water Pool and Spa™ participates in the Amazon Services LLC Associates Program, as an Amazon Associate we may earn a commission from qualifying purchases.