Above Ground Pool Steps
Above ground pool steps can increase accessibility and add an element of safety to your pool area. The many benefits include ease of use for both getting into your pool for a swim and getting out safely when you're finished. Large steps with contours provide grip on an otherwise slipper surface making them ideal for children and pool owners with increased mobility requirements. Pool steps are a great addition to any pool and provide a more stable platform compared to above ground pool ladders.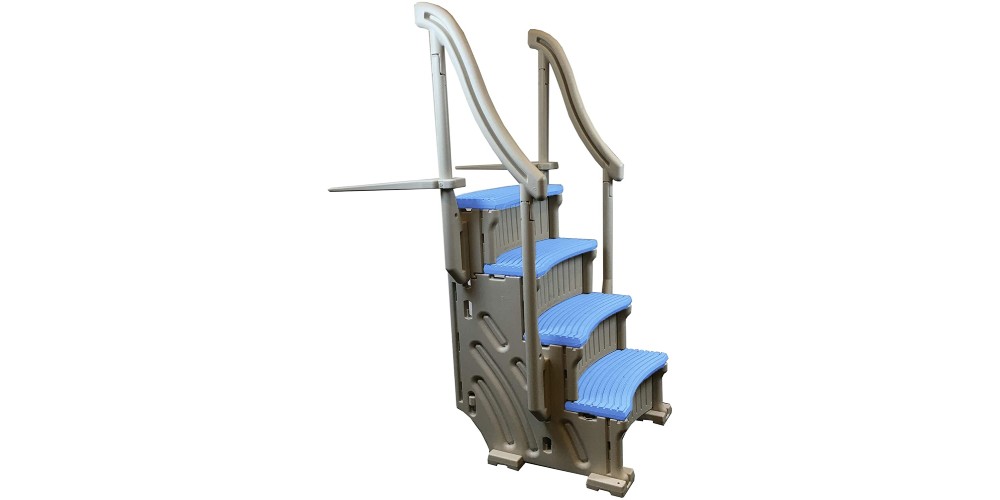 Most step systems have handrails that extend the entire length that provide stability and improved safety when traversing them. The combination of large steps and handrails virtually eliminate slips and accidental injury that can occur on conventional ladders. The polyethylene materials used in most of the top rated above ground pool steps resist rust, corrosion and general wear and tear as they're subjected to pool water and harsh weather. 
Above ground swimming pool steps rest on the pool bottom allowing step access from the pool bottom to the deck making them suitable for all ages and abilities. This creates a lot of stability as it distributes pressure over a larger area, and provides a wider and more convenient way to enter or exit your pool. Instead of users being tempted to dive into a pool that is too shallow, easy access is readily available with a large, wide entranced set of stairs.
---
---
---
Best Above Ground Pool Stairs
The best above ground pool steps will take the thought out of enjoying and getting out of your pool. Investing in a quality step system will ensure the safety of anyone using the pool and guarantee you will enjoy it for many years. We've listed what we feel are the best choices when it comes to adding convenient access for everyone from small children and the elderly. 
Confer Curve Above Ground Pool Steps
The Confer Curve Above Ground Pool Step system is our top rated step for a number of reasons including safety. These molded, super strong steps will provide lasting support for persons up to 400 pounds and stand up to pool chemicals and anything mother nature can throw at them including UV rays and freezing temperatures. The adjustable base pads allow for a custom fit in any pool and the oversized deck mounting brackets means it will stay in place for a safer and sturdier step structure. The sides fill with pea gravel for a superior ballast to top it off this top rated above ground pool step is backed by a 5 year warranty. 
Confer Access Above Ground Pool Steps
The Confer Access Pool Steps are a great addition to any above ground pool that has a supporting deck structure. These steps feature a strong construction that can support up to 400 pounds weight and provide a safe, sturdy platform to get in and out of your pool safely and easily. All mounting hardware is included so you can securely fasten it to your adjacent above ground pool deck. This product is made in the USA and is one of the best above ground pool steps on the market today. 
Above Ground Pool Steps Installation
The setup and installation of above ground pool steps is generally quite simple. There are very few pieces and they are made of lightweight materials. They will resist corrosion, staining and last for many years with the added convenience of being adjusted so they sit snug on the bottom of the pool. We recommend using a pool stair mat to protect the pool floor liner from wear from the stair base. 
The stairs can either be fastened to your pool deck with the included hardware or weighed down using sand that fills the chamber of the step structure or a ballast weight. A ballast weight is really convenient and makes it easy to install and remove during off-season winterization. When choosing the step make sure you consider the size, accessibility and of course budget. It's important to measure the height of you pool wall to ensure the stairs can be properly fastened.
If you are accommodating children, seniors or someone with a disability a larger step would be more suitable. In many cases steps are a lot cheaper than ladders and provide more benefits. There are many options out there for a very reasonable cost when you consider how long they will last. Whether it's to provide everyday easy access or to add that extra bit of ease for children or the elderly find one that works for you and your pool.
---
---
---
---
---
---
Disclaimer
Please use all appropriate and proper safety precautions when attempting projects on this website. All projects are attempted at the reader's own risk.
Salt Water Pool and Spa™ participates in the Amazon Services LLC Associates Program, as an Amazon Associate we may earn a commission from qualifying purchases.