Above Ground Pool Covers
Above ground pool covers will keep your pool free of dirt and debris so the pool is clean when you go to use it the next time. A good quality cover is also beneficial when used regularly because it will prevent costly water evaporation that can lead to increased chemical and balancing costs. While a cover should never be considered a safety barrier it can deter children, pets and anything else from entering your pool while no one is around.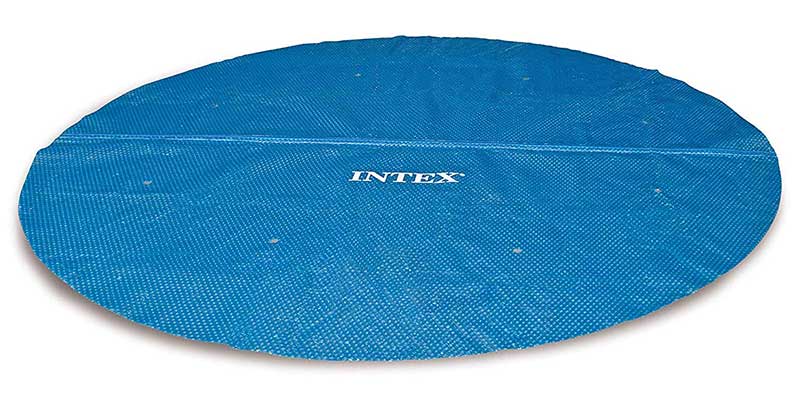 Up to 95% of the heat in the pool water escapes through the surface of an uncovered pool through the processes of radiation and evaporation. A cover used regularly will prevent most of this heat from escaping and even increase the temperature of the pool water, or at least regulate it versus the ambient temperature around the pool. You'll fill your pool up less often which means in addition to conserving water and helping the environment, you'll reduce the amount of salt or chemicals used over time and make above ground pool opening so much easier.  
---
---
---
Types of Above Ground Pool Covers
There are two main types of above ground pool covers each with their unique set of advantages and disadvantages. A temporary soft solar cover is ideal for use throughout the season and a winter cover is designed for a more permanent solution during the winter months or off season. A cover should never be relied upon as the only means of pool safety and preventing children from entering a body of water. 
Intex Round Solar Cover
The Intex Above Ground Solar Pool Cover is worth every penny when it comes to investing in your pool set up. It's a simple and very affordable way to keep your pool water clean which will reduce the amount of time you spend maintaining and cleaning it. In addition it will prevent evaporation while keeping your pools temperature regulated. It's a no brainer if you own a pool and you should be using a solar cover at all times when it's not being used. 
Intex Round Easy Set Cover
The Intex Round Easy Set Cover is an easy to use and durable pool cover designed to keep just about anything from getting in your pool. The edges overhand 13" and make a snug fit all around the edge so wind or bad weather won't knock the cover off. It features drain holes so the top of the cover won't accumulate water over time. Keep your pool clean throughout the season with one of the most affordable above ground pool covers.
Intex Deluxe Round Pool Cover
The Intex Deluxe Round Pool Cover is built with quality in mind and ideal for any metal framed round poo. The durable construction includes a UV resistant material that will stand up to the rigours of the hot summer sun in any climate in the United States and Canada. The combination of this deluxe cover with a solar cover provide a great double layered approach that will keep the water clean, the bugs out and the water in the pool when it's not being used. 
Above Ground Pool Winter Covers
An above ground pool winter cover is designed to protect your pool in the off season. If you live in a climate that experiences snow, ice and freezing temperatures you want to ensure you winterize your above ground pool properly and that should include a quality winter cover. The last thing you want is to open your pool and find that it's full of algae, slime, debris and other unsightly things. It's remarkably easier to get your pool up and running when it's been protected and kept clean by a properly fitted winter cover. 
Robelle Winter Round Above Pool Cover
The Robelle Winter Round Above Ground Pool Cover is made for winter conditions including snow, ice, freezing temperatures and even the relentless UV rays from the sun. It's made of a durable and solid polyethylene that includes a heavy duty 4 feet of overlap that ensures nothing gets into your pool when you don't want it to. This high quality cover is available in an assortment of sizes; 12 feet to 33 feet and colours so you can be sure to find a cover that does the job and looks good while doing it. 
When purchasing a winter above ground pool cover ensure you have measured the diameter of your pool. Some cover manufacturers will include overlap in addition to the specified size so be sure to check that out. Always err on the side of caution, a cover that is too small is useless and shouldn't be used. When installing your winter cover be sure to keep the cover snug with cable tighteners or something similar and we recommend using an air pillow underneath the cover. 

---
---
---
Above Ground Pool Covers Tips
If you are already using a cover for your above ground pool you may have run into problems if it wasn't sized or installed properly. It can be a huge headache if the cover keeps slipping off the edges during a windstorm and finding debris like twigs and leaves in your once clean pool. It's important to install and maintain it properly so it keeps your investment protected all winter long.
Never completely drain an above ground pool. 
Purchase an above ground pool cover that fits your pool or slightly larger and trim it to size.
Ensure that the straps or fastening cords are tight and fastened properly.
If you find a cover that fell in or caved into the pool use a submersible pump to empty it first.  
An air pillow is a necessity if you live in a climate that experiences freezing temperatures in the winter. 
When choosing between different above ground pool covers it's important to ensure proper fit based on the size of your pool. A snug fit will prevent dirt and debris from entering your pool and provide a layer of safety especially during above ground pool winterizing. A perimeter safety fence and removing the ladder are two of the best ways to provide a barrier to your pool and prevent unwanted children or pets from gaining access.
---
---
---
---
---
---
Disclaimer
Please use all appropriate and proper safety precautions when attempting projects on this website. All projects are attempted at the reader's own risk.
Salt Water Pool and Spa™ participates in the Amazon Services LLC Associates Program, as an Amazon Associate we may earn a commission from qualifying purchases.