---
Above Ground Pool Covers
Above ground pool covers will keep your pool free of dirt and debris when it's not being used. A good quality cover is very beneficial when used regularly because it will also help prevent costly water evaporation and provide an added safety barrier that will help prevent children and pets from entering your pool while unsupervised.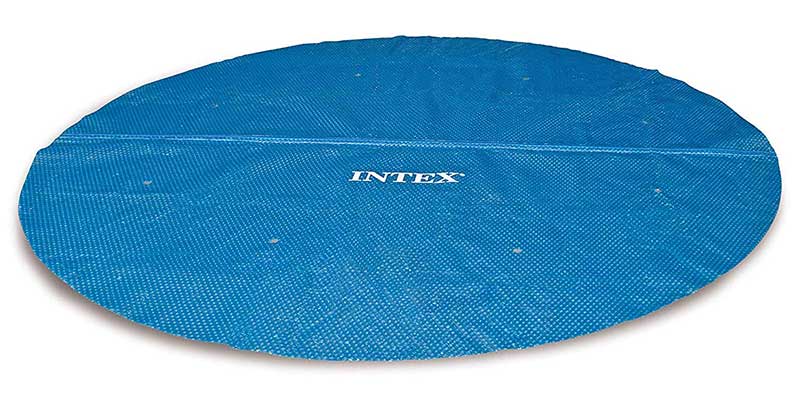 Up to 95% of the heat escapes through the surface of an uncovered pool through the processes of radiation and evaporation. A cover used regularly will prevent most of this heat from escaping and even increase the temperature of the pool water. You'll fill your pool up less often which means in addition to conserving water and helping the environment, you'll reduce the amount of salt or chemicals used.  
Types of Above Ground Pool Covers
There are 2 types of above ground pool covers each with their unique set of advantages and disadvantages. It's important to understand the differences between them especially when it comes to safety for your pool. A cover should never be relied on as the only piece of pool safety equipment but it can be an important layer in your pool safety plan. 
Solar Above Ground Pool Covers
Winter Above Ground Pool Covers
Above Ground Pool Solar Covers
Above ground pool solar covers are worth every penny when it comes to investing in your pool set up. They are a very affordable way to keep your pool water clean which will reduce the amount of time you spend maintaining and cleaning it. In addition it will prevent evaporation while keeping your pool warm, for free. It's a no brainer if you own a pool and you should be using a solar cover at all times when it's not being used. 
An Intex solar pool cover is designed to fit Intex pools and are a lightweight and affordable option that's easy to install, remove and roll up if you are using a cover reel. When purchasing a cover measure your pool diameter and allow for a few extra inches if possible because you can always trim the cover to fit if needed. 
---
Above Ground Pool Winter Covers
An above ground pool winter cover is designed to protect your pool in the off season. If you live in a climate that experiences snow, ice and freezing temperatures you want something to protect your investment so you don't open your above ground pool only to find that it's been damaged over the winter. It's remarkably easier to get your pool up and running when it's been protected and kept clean by a properly fitted winter cover. 
A quality above ground pool cover made for winter conditions including sun, snow, wind and ice should have a few important product specifications. This includes a UV resistant rating and often means they are made with very durable polyethylene that is used all over the world for various applications. A product warranty should exceed 5 years and at least 2 years for a fully comprehensive full rated warranty.
When purchasing a winter above ground pool cover ensure you have measured the diameter of your pool. Some cover manufacturers will include overlap in addition to the specified size so be sure to check that out. Always err on the side of caution, a cover that is too small is useless and shouldn't be used. When installing your winter cover be sure to keep the cover snug with cable tighteners or something similar. 
---
Above Ground Pool Covers Tips
If you are already using a cover for your above ground pool you may have run into problems if it wasn't sized or installed properly. It's important to install and maintain it properly so it keeps your investment protected all winter long.
Purchase an above ground pool cover that fits your pool or slightly larger and trim it to size.
Ensure that the straps or fastening cords are tight and fastened properly. This includes making sure the entire perimeter of the cover is fastened, it takes one windy day to blow a cover off that isn't fastened properly.
If you find a cover that fell in or caved into the pool, drain it first before attempting to remove it with a submersible pump or similar. 
Never completely drain an above ground pool. 
A pool cover pillow can be handy if you live in a climate that experiences freezing temperatures in the winter. 
When choosing between different above ground pool covers it's important to ensure proper fit based on the size of your pool. A snug fit will prevent dirt and debris from entering your pool and provide a layer of safety especially during above ground pool winterizing. A safety fence or removing the ladder will provide a barrier to your pool and prevent unwanted children or pets from gaining access. 
SWPS Home Page
>
Salt Water Above Ground Pool
---