---
---
LED Pool Lights
LED pool lights or light emitting diode lighting will bring your swimming pool to life with rich and vivid colors.  They are quickly becoming the most popular choice of lighting for swimming pool owners because of their vibrant colors, energy efficiency and incredibly long life.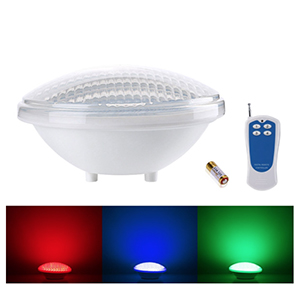 They are available in applications that serve both inground and above ground pool owners.  Underwater pool lights are available for inground pools that range from soft white to multiple vivid colors that can be controlled either by the touch of a button or set to run through a series of light shows.  The color changing pool light will turn your regular pool into a unique spectacle.

Imagine turning your swimming pool into a soothing and relaxing green or blue color for those warm relaxing nights.  If you want to create a livelier atmosphere you can set the lights to run through a series of spectacular light displays that will thrill your family and friends.  Whichever you choose, it can be operated by the flick of a switch or with the freedom of a remote control device.
Above ground pool owners can enjoy the benefits with a device that magnetically attaches to your vinyl pool wall.  The portable light that attaches using magnets on both sides of your pool liner wall will give you that perfect amount of soft light to extend your swimming hours but not wake the neighbors up.
Led Pool Lights Specifications
The high efficiency of LED is unmatched by any other light in the pool industry - it uses up to 80% less energy than a traditional incandescent light bulb.  This results in less energy consumption and subsequently costs a lot less to operate.  The savings can amount into the thousands of dollars in just a few years.
LED pool lights run on either 120 volts or 12 volts for lower voltage applications. The low voltage provides long lasting, steady, low heat lighting.  Most are rated to last in excess of 50,000 running hours so you can take comfort in knowing that after your initial investment you can enjoy many years of maintenance free lighting.
Light emitting diode lighting is easy to install into an existing salt water pool system and is the the most popular form of lighting in the pool industry today.  The low energy consumption and amazing bright lights make it an easy recommendation for any pool owner.
SWPS Home Page
>
Inground Pool Lighting
Disclaimer
Please use all appropriate and proper safety precautions when attempting projects on this website. All projects are attempted at the reader's own risk. 
Salt Water Pool and Spa™ participates in various affiliate programs, including Amazon Services LLC Associate Program, as an Amazon Associate we may earn a commission from qualifying purchases. 
---
---
---