Swimming Pool Apps
A good pool app can be your best friend and we promise this list of the best smartphone apps has something that is going to make your life a whole lot easier. If you thought controlling your sanitizer, pump or lighting from another city or country was science fiction you are going to be in for a pleasant surprise. In addition to remote pool automation there are handy applications that will allow you to test and calculate water chemistry instantly for free. 
A good pool app can do a lot of things and the benefits make them something worth seriously considering. Imagine being able to test your pool water chemistry and know within a couple of minutes exactly what chemicals to add and how much of each chemical. You can operate literally every component of your pool system with the push of a button when using a remote pool automation. If you have ever wanted to spend more time using your pool but found that you just didn't have time with your busy life, you are not alone. 
---
The Complete Guide to Salt Water Pool Maintenance

Everything you need to know to maintain your salt water pool and keep it running smoothly all season.

---

---
---
---
Top 10 Smartphone Pool Apps
The top pool app list is based on customer reviews and user feedback from pool owners just like you. At the time of creating this list most of these apps were free but that can change over time. Keep in mind that the money you may end up spending for an app will most likely pay for itself many times over especially if you are a pool professional that services multiple pools. You will also find some of the apps work in tandem with a product or service that needs to be purchased separately. 
Pool Chemistry Apps
A pool app that makes pool maintenance and chemistry easier to monitor and balance is worth it's weight in gold. Every pool owner would love to spend less time looking after their pool and more time enjoying it. With an app that makes the time consuming chore of balancing pool chemistry and adding chemicals easier you can't go wrong.  
Pool Pal supports single and multiple pools so it's ideal for residential pool owners and professional service companies that want to simplify chemistry. This pool calculator is incredibly user friendly and will work with any type of pool including salt water systems.  
Cost: Free
Pool Care is a complete chemistry calculator pool app that has everything you could every want. You can set timers to remind you to do pool tests, clean filters or do backwashes and set multiple profiles if you are maintaining more than one pool. It's a free app unless you want to remove the ads.
Cost: Free
Pool Doctor is a pool app that's used by professionals and home owners around the world and is one of the best chemistry apps available. You can input levels like free chlorine, salt, pH and alkalinity etc. and it will tell you how much chemical you need to add to bring it back in balance. 
Cost: Free
4. AquaChek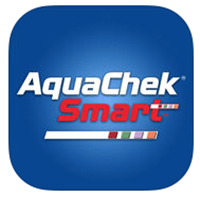 The AquaChek Smart pool app makes chemistry easy with convenient test strips. You simply dip one strip and it will give 4 separate reaction readings that you input into the chemistry calculator. It also features a test history, water volume calculator and large, easy to read scrolling color bar. 
Requires: AquaChek Smart Application Test Strips
Cost: Free
Learn more about AquaChek Smart
The Pool Calculator is a great app if you are really precise in formulating your pool chemistry. It does everything for you just by simply filling in the blanks. This app has been around for years and if you are looking for a basic calculator this app will do the trick.
Cost: $3.99
---
Pool Management Apps
Remote pool management systems are bringing cutting edge technology to residential pool owners at an affordable price. The wireless capabilities of these user friendly programs make them worth considering if pool automation is something you have thought about. These pool apps are designed to bring every function of your control center and put them in the palm of your hand including sanitation, pump operations, lighting and more. 
ITS Master Digital Pool Test Kit with 10 Parameters

If you click on this link and make a purchase, we may earn a commission.
---
The Pentair ScreenLogic Connect is a state of the art interface for pools and spas. It is the only pool app compatible with the Apple Watch so you can control and and view your pool information from your wrist making it truly cutting edge in the world of apps. 
Requires: Pentair IntelliTouch Controller, EasyTouch or EasyTouch PL4 & PSL4
Cost: Free
The Zodiac iAquaLink is a remote pool app that will allow wireless control of any AquaLink pool automation system or the Jandy web-connect device iQPUMP01 connected to a Jandy variable-speed pump. The app will provide the user with intelligent pool control anytime and anywhere whether you're at work, vacation or on the golf course.  
Requires: Zodiac AquaLink Controller or iQPUMP01 
Cost: Free
The Hayward AquaConnect is a remote pool management system that will allow you to control every function of Hayward ProLogic Pool Controllers from just about anywhere. It puts all of the operations of your pool controller in the palm of your hand with the freedom to manage your pool wirelessly.
Requires: Hayward ProLogic Controller
Cost: Free
9. Pool Heater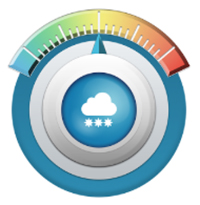 Pool Heater is a relatively new addition to the world of pool apps and allows owners to remotely control the operations of compatible heat pump heaters. You can monitor the operations of the heater including turning the heater on and off, setting target water temperatures, timers and other operation settings. All information is graphed over time so you can look at past trends.
Requires: Heat Pump Heater with Wi-Fi module
Cost: Free
Learn more about Pool Heater
---
---
---
---
---
---
Disclaimer
Please use all appropriate and proper safety precautions when attempting projects on this website. All projects are attempted at the reader's own risk.
Salt Water Pool and Spa™ participates in the Amazon Services LLC Associates Program, as an Amazon Associate we may earn a commission from qualifying purchases.