---
---
---
Pool Light Bulbs
Pool light bulbs are available in a variety of types, colors and sizes so you can find one that fits your existing pool set up.  A new color changing replacement bulb with state of the art LED will give your pool character, help set the right backdrop for any backyard occasion and provide years of vibrant lighting options for your salt water pool.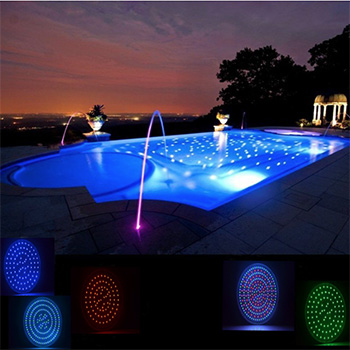 WYZM Color Changing LED Pool Lights
Incandescent light bulbs are ideal for providing a lot of light to your pool since white light travels farther compared to colored lighting.  The cost to operate incandescent light bulbs is higher than LED and they don't have the automatic color changing options.  There are snap-on colored lenses available for some types of incandescent lights that can create some amazing colored effects if this option is appealing to you. 

Color changing lights and LED lights are becoming more popular due to their energy efficiency and vibrant colors.  They can cycle through multiple colors automatically or through a remote control.  For a modest price, you can create a luxury resort atmosphere in your own backyard.
If you are replacing an existing light bulb it's best to identify your current lighting and match the type and size based on the existing specifications. This will ensure compatibility and provide you with safe, reliable and long lasting light.
Pool Light Bulbs Technical Information
Pool light bulbs are available in either 120 volt or 12 volt.  There is no difference in brightness but 12 volts is a lower and safer level of electricity.  In some municipalities it is required that lights be wired to operate on 12 volts for swimming pool use. If this is the case you will notice a transformer that converts the 120 volts you find in most household outlets and reduces it down to 12 volts. 
If you are replacing a light and are unsure of the voltage there are few ways you can determine this.  If there is a transformer than you can be sure it operates on 12 volts, you can also look for a label or sticker on the light or the light housing. 
It can be difficult to determine how much lighting you need for your pool. Everyone has his or her own opinion and it will depend on personal preference.  If you want lighting to create a well-lit pool for children swimming at night, then white lighting would be appropriate.  If you are looking for colored lighting to add a unique aesthetic look to your backyard color LED lights would be ideal. 
Placement and the amount of light you use will change how the lighting looks.  Consider adding more lights or choosing a color that compliments your pool liner.  There are a lot of options and you are limited only by your imagination when it comes to pool lighting.
---
---
---
---
Disclaimer
Please use all appropriate and proper safety precautions when attempting projects on this website. All projects are attempted at the reader's own risk.
Salt Water Pool and Spa™ participates in the Amazon Services LLC Associates Program, as an Amazon Associate we may earn a commission from qualifying purchases.