---
---
Solar Pool Light
A solar pool light provides the freedom of a portable light with the affordability of free solar power.  This low maintenance option will bring brilliant colors to your pool night after night using only the energy from the sun without the added cost for batteries and you'll be doing your part for the environment with renewable energy.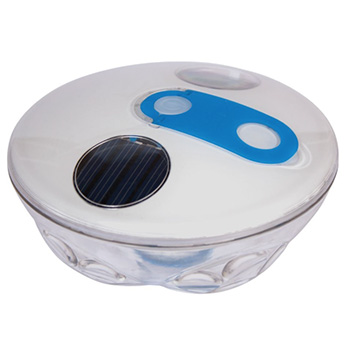 GAME Solar Underwater Light Show
In the daytime hours a solar light will harness energy from the sun and store it in a solar battery so that when nighttime arrives it turns on automatically - illuminating your pool.  A solar light that receives roughly 6 - 8 hours of sunlight during the day should last 4 - 6 hours after it turns on when its need after the sun goes down.  The light can be left on so that it automatically turns on at night and shuts off during the day, virtually maintenance free!

There are many varieties of solar lighting that include multi-color LED lights and regular soft glowing white lights.  The color changing light will cycle through different patterns to create a light show effect or can be set to remain on one constant color to create that perfect ambiance for a special occasion.
The pool industry has taken a big turn towards solar energy and there are almost as many options as non-solar lighting.  A stunning underwater light show can be created by the addition of just one solar light!  If you are concerned about providing a substantial amount of white light for your pool there are solar incandescent white lights available.  These lights provide the most light from a solar source and are designed to float on the surface or can be fastened to the pool ledge.
Solar Pool Light Information
Solar energy has advanced tremendously in recent years and the technology has created some very high quality lighting options for pools and spas.  Solar lights in general are not as bright as electrical LED lighting or fiber optic lighting but in some applications it can be adequate as the primary source of lighting.  It's important to consider the size of your pool and it's possible that you may require more than one light to reach all parts of your pool. 
A solar pool light can be used as a supplementary light for an existing underwater lighting system or similar.  Used in tandem, it can create some pretty amazing light effects that your friends and family will be sure to enjoy.
SWPS Home Page
>
Inground Pool Lighting
Disclaimer
Please use all appropriate and proper safety precautions when attempting projects on this website. All projects are attempted at the reader's own risk. 
Salt Water Pool and Spa™ participates in various affiliate programs, including Amazon Services LLC Associate Program, as an Amazon Associate we may earn a commission from qualifying purchases. 
---
---
---