Solar Pool Lights
A solar pool light combines the versatility of a portable light with the affordability of free solar power. This low maintenance option will bring brilliant colors to your pool night after night using only the harnessed energy from the sun. The latest technology in solar power has been transferred to the pool industry with a wide assortment of options that are ultra-durable, high quality and full of expressive color and designs.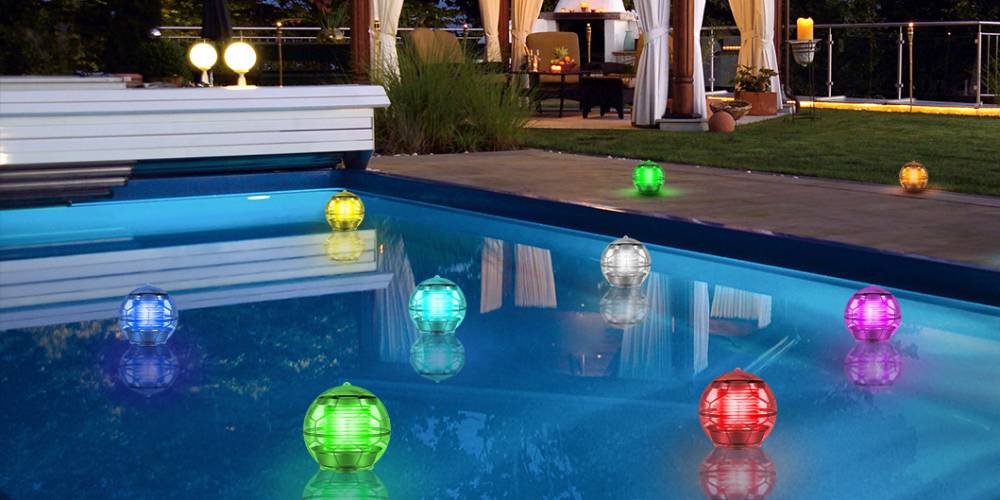 In the daytime hours a solar pool light will collect and store energy from the sun in the onboard solar battery. When nighttime arrives it will turn on automatically, illuminating your pool in a vibrant display of color. A solar light that receives roughly 6 to 8 hours of sunlight during the day should last 4 to 6 hours after it turns on when it's needed in the evening after the sun goes down. The light can be left on at all times, it'll automatically turn on at night and shut off during the day, virtually maintenance free all season long. 
How do Solar Pool Lights Work?
Solar pool lights work by effectively using energy from sunlight and converting it to electrical energy to power the lights. When sunlight hits the solar panels it activates the electrons, creating an electric current, also known as photovoltaic effect. The electrical energy is then stored in a rechargeable battery integrated into the solar pool light. The battery acts as a reservoir for energy produced during the day, allowing it to be used at night. 
Solar lights typically have built-in light sensors that detect ambient light levels. When the sensor detects that the surroundings have become dark or natural light levels have decreased, it triggers the lights to turn on. Most solar pool lights use energy-efficient LED lights. LED or light emitting diode lighting is ideal for solar powered devices because it consumes much less energy and has a much longer lifespan compared to traditional incandescent bulbs. 
Best Solar Pool Lights
The best solar pool lights have certain qualities that contribute to their performance, durability and overall user satisfaction. The most important is to look for lights that have high quality solar panels that can convert a greater amount of sunlight into electricity. A large solar battery capacity is essential for any inground pool lighting that isn't powered via electrical power as it allows for longer operating times and energy reserves during cloudy days. Finally, look for a light that has different lighting modes, adjustable brightness and remote control capabilities.
Floating Solar Pool Lights
Solar Underwater Color Changing Pool Lights
Solar Pool Cage Lights
Solar Rope Lights
1. Floating Solar Pool Lights
Floating solar pool lights are a cool place to start when considering alternate power sources for lighting your pool and deck area. The biggest plus to these lights is you can set them out and forget about them. As they float during the day they'll charge the internal solar battery and automatically come on at night when it senses darkness. They can produce 7 colors in soft hues that'll bring life and vibrancy to any pool area. The glowing LED lights will float and illuminate in random patterns providing soothing light all night long. 
Linkax Waterproof Solar Floating Pool Lights

If you click on this link and make a purchase, we may earn a commission.

---
2. Solar Underwater Pool Lights
Submersible pool lights that use solar energy to power them are a new product and they have some benefits that make them really worth considering. As with most solar pool lights they utilize super bright LED lights that change color on demand including a color-changing mode that displays different colors without the need for a colored pool light cover. Look for a light that is waterproof rated IP68 which means that it can be fully submersed underwater safely. You can expect the lights to last 6 to 8 hours after a full day of charging the internal battery. 
T-Sun Color Changing Underwater Solar Pool Lights

If you click on this link and make a purchase, we may earn a commission.

---
3. Solar Pool Cage Lights
Solar pool cage lights have specific qualities that lend them to being practical to use on large pool enclosures or fences. The lights can be fastened to the cage or frame bars without the need for wiring or complicated installations. Their solar charging capabilities allow them to charge during the daytime hours and automatically illuminate at nighttime when extra light is needed. This self-sustaining system eliminates the need for external power sources, reduces energy costs and headaches. 
Look for solar cage lights that are weather resistant and made of high quality materials. An IP65 water-resistant rating is a minimum and will ensure that they stand up to extreme weather and constant exposure to the sun ultra-violet rays. The ability to adjust the lighting mode, color, brightness and lighting effects is available in some lighting options or you may want a subtle soothing white light ambiance. 
Outdoor Stainless Steel Solar Pool Cage Lights 

If you click on this link and make a purchase, we may earn a commission.

---
4. Solar LED Rope Lights
Solar LED rope lights are a highly versatile and can be used in a number of places around your pool or backyard patio area. They consist of a rope-like tube available in lengths as long as 100 feet, that house tiny LED bulbs that are powered by solar energy. Adding them to fences, pathways, trees and pool coping is super easy and allows for complete customization of your pool deck lighting. The automatic light sensors mean you can set them up and let them illuminate on a nightly basis with no energy costs. 
Yeguo Solar Waterproof Rope Lights 72ft 200 LED

If you click on this link and make a purchase, we may earn a commission.

---
---
---
---
Solar Pool Light FAQs
Solar lights require direct sunlight to work optimally, but they can still function under indirect sunlight or cloudy conditions. The amount of sunlight received directly affects the charging efficiency and overall performance. 
The benefits include vibrant colors, versatility, durability, energy efficiency and cost savings. 
They are easy to install, requiring no electrical connections or wiring. They can be mounted or placed in desired locations with minimal effort.
The duration of solar lights on a single charge depends on sunlight exposure, battery capacity and lighting intensity, typically lasting an entire night.
Solar lights can be used in various types of pools including inground, aboveground and inflatable pools.
Alternatives to solar lights include traditional electric pool lights that require electrical wiring and portable battery powered lights that require battery charging or replacement. 
---
---
---
---
---
---
Disclaimer
Please use all appropriate and proper safety precautions when attempting projects on this website. All projects are attempted at the reader's own risk.
Salt Water Pool and Spa™ participates in the Amazon Services LLC Associates Program, as an Amazon Associate we may earn a commission from qualifying purchases.