Inground Pool Steps
Inground pool steps are becoming more popular with pool owners because of the many benefits they provide including access for children and seniors of all ages.  Steps enable the same ease of use and safety that household stairs provide with large, evenly spaced anti-slip rungs to prevent slips and falls and accidental injury.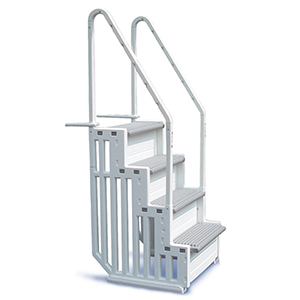 Confer Plastics Inground Pool Step
Another feature found on leading brand name steps are handrails that run the entire length of the stepping structure which will help eliminate slips and accidental falls that can occur on some inground pool steps.  If children or seniors use your pool frequently inground swimming pool steps that are constructed with safety and ease of use should be considered.  These models feature extra large steps, handrails that run the full length of the device and anti-entrapment frames.
The steps rest on the pool bottom in the shallow end allowing step access from the pool bottom to the deck making them suitable for all ages.  This creates a lot of stability as it distributes pressure over a larger area and provides a wider and more convenient way to enter or exit your pool.
An inviting set of in ground pool steps will actually promote pool safety. Instead of being tempted to dive into a pool that is too shallow, easy access is readily available with a large, wide entranced set of stairs.
Inground Pool Steps Installation
Setup and installation for step structures is generally quite simple. There are very few pieces and they are made of sturdy, yet lightweight materials.  They will resist corrosion, staining and last for many years.  The steps can be adjusted so it sits snug on the bottom of the pool and can either be fastened to your pool deck or other methods depending on the manufacturer, including sand. 
There are many options available on the market and it can be a bit confusing but the important things to consider are the size, durability and what level of accessibility you require.  The size is important because it has to fit your existing pool and pool set up. Take time to measure where you want to install them.  An easy way to do this if you are replacing existing steps is to measure the old, worn out steps that ensures you also have the same level of accessibility.  Most products will be quality manufactured and even have extended warranties so watch for those as well.
If you are in the market for steps and are considering a pool ladder for your salt water pool you can find more information about swimming pool ladders here.
When choosing inground pool steps make sure you consider all the options available. Whether it's to provide everyday easy access or to add that extra bit of ease for children or the elderly, find one that works for you and your pool.
---
---
---
---
---
---
Disclaimer
Please use all appropriate and proper safety precautions when attempting projects on this website. All projects are attempted at the reader's own risk.
Salt Water Pool and Spa™ participates in the Amazon Services LLC Associates Program, as an Amazon Associate we may earn a commission from qualifying purchases.