Inground Pool Slides
Inground pool slides are a great way to add a ton of fun and excitement to your salt water swimming pool. You can turn your pool into a water playground with the feel of a water park with that addition of one of the many choices available.  With all the different styles and sizes you can be sure to find something that your family and friends will enjoy for many years!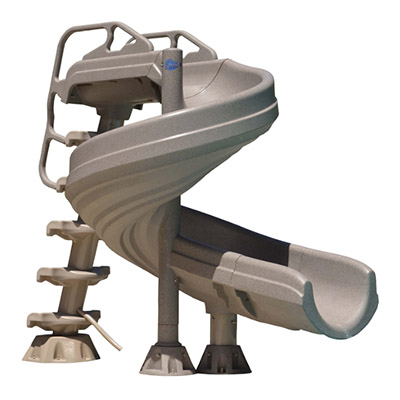 Slides are available in a variety of shapes from a simple curve to a twisting helix that make them suitable for all ages.  Small children can safely use slides because of the high side rails that run the length of the slide.  If you are interested in an above ground pool slide or child play center be sure to check out all the fun options available. 
The safety certification provided with most slides ensures that every precaution was taken during construction and design to make sure your children are safe when enjoying them.  The high sidewalls from top to bottom, safety steps and sturdy handrails will ensure the safety of everyone using your slide.

Water slides are available in simple straight-line designs for children or the reserved slider while large, twisting, adrenaline pumping designs are available for the more adventurous sliders.  Older children, teenagers and adults will enjoy the thrills that the more elaborate slides provide.  The sturdy construction and quality materials that go into the top of the line products can support weights up to 250 lbs, resist harsh weather and last for many years.
Inground Pool Slide Options
There are many varieties of pool slides available and it's just a matter of choosing the one that works with your pool and the ages of who will be enjoying it.  In addition to choosing a slide based on adventure level, color and price there are a few other considerations that you will have to factor into your decision including; deck space, mounting options, weight limit and water supply.  We'll take a look at each of these options below including basic installation guidelines.
Required Deck Space 
All inground pool water slides have a minimum required deck space that will ensure safe installation and usage.  While some of the smaller slides only require minimal deck space some of the larger slides require an area of to 14 x 9 feet.  The area required is not only so the slide fits but it also ensures the safety of anyone using the slide.  Installing the slide in an area smaller than specified could result in unsafe sliding or costly damage to the slide or pool deck. 
In addition to required deck space you will need to factor in the location of the slide around your pool.  The slide exit runway will need to positioned so that users enter the pool into a minimum depth of water as well as distance from the end of the slide.  This depth ranges with different models but it can be as low as 3 feet or as deep as 6 feet.  The distance required can range up to 9 feet which is important if you are installing the slide on a smaller pool. 
It's important to consider the location of your water slide.  There are minimum depth requirements and restrictions on the distance from the edge of your pool that vary with different slides.  


Weight Limit for Inground Pool Slides
Every slide manufactured will have a specified weight limit that should never be exceeded.  These maximum weights are based on product strength, mounting hardware and various other tests carried out by the manufacturer.  Exceeding the limits can result in damage to the slide or cause serious injury. 
It's important to keep an eye out for slides that are designed specifically for children with weight restrictions as low as 100 lbs.  It's important to prevent older children or adults from using these slides but it's something to keep in mind before purchasing your new slide.
All S.R. Smith slides comply with the U.S. Consumer Product Safety Standard to Swimming Pool Slides so you can be sure that safety is part of the design and engineering.  Always check for safety compliance standards when purchasing a new slide. 
S.R. Smith Safety Compliance Standard
Salt Water Pool Friendly Slides
If you own a salt water pool you may have questions about whether a slide is suitable for salt water.  If your pool is balanced and your water health is kept up you shouldn't notice any additional wear on the slide or it's parts. 
If you are concerned and for warranty purposes we do recommend using a slide that is salt pool friendly for the added peace of mind.  The synthetic materials used in the construction of salt friendly slides is incredibly durable to all water conditions, weather and of course a lot of use.  Look for this symbol or something similar when shopping for inground pool slides.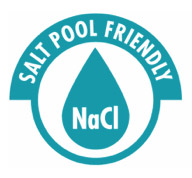 S.R. Smith Salt Pool Friendly Slides
Inground Pool Slides Installation
Installing your inground pool slide is something to consider because it can be a bit confusing for some pool owners.  In addition to the time it takes they can often require two or more people to install because of the heavy parts and complexity of some of the advanced slides.  You may even want to consider hiring a pool professional to install it especially if it requires plumbing. 
Pool Slide Mounting and Flanges
Mounting and securing inground pool slides is the most difficult part of getting it up and running but the good news is you only have to do it once.  After you have determined where to locate the slide you will need to mount it onto your deck.  In most cases you will be installing into a concrete or similar deck which makes the job a bit harder but it also provides a sturdy and permanent base for safe sliding. 
Most slides are sold with mounting hardware that is often designed for concrete mounting but in some cases you will need to purchase pool slide mounting flanges separately.  Flanges are designed specifically for use with pool slides and should be used to ensure proper installation and safety of everyone using the slide.  Always refer to the manufactures recommendations about location and mounting your new slide. 
Plumbing Inground Pool Slides
The plumbing of your slide it what will create the waterpark feel while using your slide.  The warm water from your pool is diverted through the return line of your pool and splashes down the slide in a continuous flow to make the experience of the slide so much better.  In some models you can simply attach a garden hose and with the larger slides you can plumb the slide so you get a steady flow of water from your swimming pool. 
If you are adding your slide to an existing pool you will need to carry out a bit of plumbing.  If you are unsure or don't feel comfortable with this process you should hire a professional that will ensure that it's done properly and you have adequate pressure to the slide.  All slides will have a maximum gallons per hour or GPH that is recommended for the specific slide. 
Inground pool slides are an excellent way to add a lot of excitement and fun to your pool.  They will give your pool a water park feel that you, your family and friends are sure to enjoy. 
---
---
---
---
---
---
Disclaimer
Please use all appropriate and proper safety precautions when attempting projects on this website. All projects are attempted at the reader's own risk.
Salt Water Pool and Spa™ participates in the Amazon Services LLC Associates Program, as an Amazon Associate we may earn a commission from qualifying purchases.