Handicap Pool Lift
A handicap pool lift will increase accessibility and ensure that individuals with special needs have access to the pool.  Persons with disabilities are often overlooked in todays society and one way we can make it better is to provide a solution for anyone that needs assistance to enjoy swimming where it might be impossible without the use of a lift.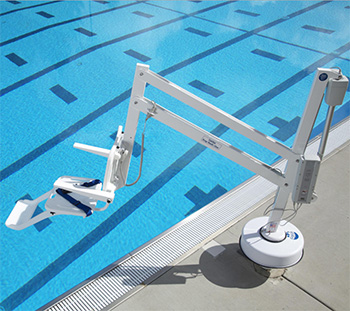 S.R. Smith Splash! Pool Access Lift
There are a variety of pool access lifts available and they are all versatile and simple to operate.  The most common lifts are designed to sit stationary on the pool deck and are fastened with flanges or something similar to keep the the base securely mounted at all times.  A lift that is mounted securely is capable of transferring individuals up to 300 - 400 lbs from the deck to the pool and vice versa. 
If you want the freedom of being able to move the lift to different locations around the pool or deck area you will find tremendous benefits in a portable pool access lift.  This style of lift offers flexibility of movement that is often aided with a wheel system for very easy movement.  Most portable handicap pool lifts come with optional mounting kits or you can purchase them separately if you want to permanently mount it to your pool deck. 
Lifts are low profile in design and their appearance and design make them suitable for almost any pool.  All access lifts manufactured today abide by the Americans with Disabilities Act Access Guidelines (ADAAG) so you can be sure that it will last years and provide reliable service and operation.  It's common to find a manufacturers warranty of five years or more. 
The sturdy construction allows this weight to be transferred from pool deck into the adjacent pool water in a smooth motion.  The access radius ranges depending on the model but you can expect anywhere between 240 - 340 degrees of rotation.  It's a good idea to purchase a lift that can handle weights in excess of what you are expecting just to be sure that you aren't overweighting the lift.  
Handicap Pool Lift Options and Upgrades
Each handicap pool lift comes equipped with everything you need to have a fully functional access lift.  If you find that you need additional accessories there are a few that are specifically made for the S.R. Smith line of lifts including the ML300 and the PAL2.  These add-ons include the following:  
Arm Rests

Spine Board Attachment

Stability Vest

Seat Pad
The versatility and mobility of each lift is carefully designed into the lift.  The 360 degrees of rotation and 400 pound weight capacity means you should be able to assist almost anyone with special needs and the absolute best accessibility for your pool.  
The S.R. Smith line of lifts operate on a rechargeable 24-volt battery so you can use it anywhere you have the lift set up and anytime the battery is charged.  The powder coated stainless steel or aluminum construction ensures it will stand up to the harshest weather and resist corrosion and staining from the pool water which can come in handy if your salt water pool every slides out of balance.

A handicap pool lift allows everyone to enjoy your swimming pool including individuals with special needs.  If getting into your pool is a challenge or you need to meed federal requirements we recommend the S.R. Smith line of accessibility products.
You might also want to consider using larger inground pool steps instead of a ladder to increase accessibility.  A fully accessible step structure with handrail is a great way to allow access to persons with disabilities or special requirements. 
---
---
---
---
---
---
Disclaimer
Please use all appropriate and proper safety precautions when attempting projects on this website. All projects are attempted at the reader's own risk.
Salt Water Pool and Spa™ participates in the Amazon Services LLC Associates Program, as an Amazon Associate we may earn a commission from qualifying purchases.