Pool Thermometer
A pool thermometer will make monitoring the temperature of your pool water a breeze especially with the digital and remote options available.  They remain in your pool at all times, keeping a constant record of the pool and in some cases air temperature.  Digital thermometers have a remote that will display these readings on a large, backlit screen from inside your own home, or wherever it's convenient.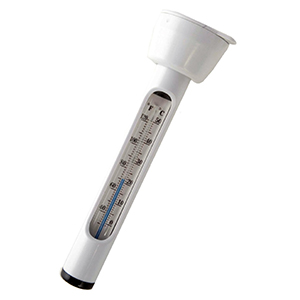 Intex Floating Pool Thermometer
If you prefer a more simple and affordable approach there are cheaper options that also provide an accurate temperature reading.  These thermometers are usually available in different animals, shapes or cartoon characters that include a ducky floating thermometer.

A digital pool thermometer will constantly transmit information to the display console in real time.  It will monitor and record water temperature, air temperature and humidity.  An alarm can be set to notify pool owners of pre-set changes in temperature.  The constant monitoring capabilities and alarm function gives the pool owner complete control over the water temperature.  If the temperature drops below the desired temperature you will know to increase heating, and adversely if the temperature rises above the set temperature you can decrease heating.
All of this important information can be monitored from the comfort of your own home.  Keep constant tabs on your pool temperature and even refer to stored data in the device without having to be near your pool and deal with thermometers that are difficult to read or inaccurate.
Pool Thermometer Advantages
A thermometer is encased in a high quality and durable shell that is designed to float freely in your pool, spa or pond.  It is resistant to chemicals, UV rays from the sun and salt water.  The thermometer requires batteries to operate and a low battery indicator will alert pool owners when it's getting near time to change the batteries so you won't be without pool temperature monitoring. 
If you are concerned about your thermometer being safe for a salt water pool you don't need to be because the conditions are less harsh than a traditional chlorine pool.  This means that even the most affordable thermometer is going to last a long time giving you the benefits for many years. 
A good quality floating pool thermometer is important for proper maintenance of the pool temperature.  You can very accurately keep your pool at a constant temperature and avoid over heating, which can end up wasting electricity and money.
---
---
---
---
---
---
Disclaimer
Please use all appropriate and proper safety precautions when attempting projects on this website. All projects are attempted at the reader's own risk.
Salt Water Pool and Spa™ participates in the Amazon Services LLC Associates Program, as an Amazon Associate we may earn a commission from qualifying purchases.