Baby Pool Toys and Floats
Baby pool toys will transform your salt water pool into a water playground for your little ones and floats designed especially for your baby will help you introduce your loved one to the water.  It's a special time when you first introduce your children to the pool and there are  few things to look for in a floaty that will ensure your child is safe and the experience is enjoyable for both baby and you. 
Pool accessories for babies and children are full of color and enjoyment in mind but is also very important to consider the safety of the product you purchase.  
As you introduce your child to the water you might find they are apprehensive and might not even like it at first.  As your child learns to enjoy the water the last thing you want to worry about is whether the product is safe or not. 
If you plan on spending hours in the sun you will wan to consider a baby float that is capable of holding your child's weight safely.  All floats manufactured will have a recommended age that is based on the average weight of a child.  This will ensure that your child is supported by the size of the varying floats available for ages 6 months to 1-2 years old.  All water toys will have a recommended age that is based on developmental level and product safety. 
You can be sure to find baby pool toys that are perfectly suited for your child.  They are a creative way to introduce them to swimming that can sometimes be challenging at first until they are comfortable.  There's nothing like a purple octopus or a giant fish float to ease them into the water which we will talk a bit about below. 
Baby Pool Floats
The options are almost endless when it comes to baby pool toys and floats and we have a few helpful tips and advice when choosing the right one.  Adult supervision is always required when swimming with small children and safety is something that needs to be considered.  A quality toy from a reputable manufacturer will ensure that it was built with safety and that it will last through the babies first couple of years.
Another important consideration if you plan on enjoying time in your swimming pool in the warm sun is protection from the sun.  The suns rays are reflected off the surface of the pool and intensifies the effects of sun.  Your babies sensitive skin will be exposed to sun and for some it will be the first exposure to prolonged exposure. 
A lot of sunscreens are available and some are designed to be water resistant but with constant splashing they can rub off and leave skin exposed.  An inflatable pool float with a canopy or cover is great for built in sun protection.  The combination of a canopy shade and sunscreen will ensure baby isn't over exposed to sun on their first swimming pool experience.

Baby floats are an overall great option for babies of all ages and are a great way to introduce them to a swimming pool for the first time.  It keeps baby out of the water completely or partially and when they are ready to take their first swim they will be comfortable being in the pool.  They are worth considering but there are other great options if they want to take the next step and get in and enjoy the water!
Baby Pool Toys Safety
If you are a salt water pool owner and you want to introduce your newest family member you will more than likely want to add a bit of excitement to you pool.  Baby pool toys specifically designed for use in the pool are made to be water resistant, inflatable and full of color.  What better way to add even more fun to your pool.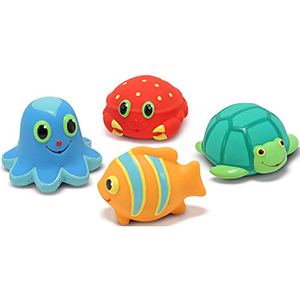 Babies and children's toys are designed to increase your child's enjoyment and what better way than to use bright colors and happy little critters with big eyes and smiles.  Toys specifically designed for pool are made to float, squirt water and handle being outside in the sun and water for extended periods of time. 
Whether its a pool floaty so you can spend time with your little one or a toy that floats you can be sure to find something that adds to the special time spent in the pool.  A supervised swim in the pool just might be the most fun that a baby can have.  A properly selected pool toy will help make it a memorable experience for your baby and you.
As your baby gets older we've put together a list of free pool party games for kids that are fun for small children and ideal for birthday parties at the pool or family get togethers.  If you have questions about baby pool toys or child safety we would like to hear from you.  A good resource for pool safety is Pool Safely who is dedicated to educating parents and children on the safe use of swimming pools and being in the water in general. 
---
---
---
---
---
---
Disclaimer
Please use all appropriate and proper safety precautions when attempting projects on this website. All projects are attempted at the reader's own risk.
Salt Water Pool and Spa™ participates in the Amazon Services LLC Associates Program, as an Amazon Associate we may earn a commission from qualifying purchases.