Child Safety Pool Fence
A child safety pool fence will help prevent injury and accidental drowning death by providing a barrier to keep children out of your salt water pool while unsupervised.  It is estimated that fences could prevent over seventy percent of pool drowning accidents for children five years and younger if used by every swimming pool owner.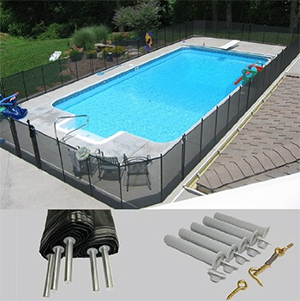 Life Saver Pool Fence Section Kit 4 x 12 Feet Black
A backyard pool is easily accessible for children especially from an adjacent residence because it's only a matter of going out the back door.  As children become curious and wander they can easily end up in the pool area if a fence isn't preventing them.  It's important to keep in mind that a high percentage of accidents occur when parents felt they were providing adequate supervision for their children. 
Pool safety fences are available in a variety of designs and materials ranging from sturdy mesh to reinforced steel.  There are a few features that need to be considered as well as several minimums that need to be met in order to satisfy local by-laws.  The final decision should be made using your own judgment and what your unique needs are.
The most convenient child safety pool fence features sections that can be attached and removed if your fence is conducive to being used on a temporary basis.  The fence post housings are installed permanently into the pool deck concrete.  This method requires one-time installation with a hammer drill and masonry bit. 
Below we have listed the essentials as well as some options to create a safe swimming environment.
Requirements for a Child Safety Pool Fence
Four-sided fencing that completely encloses the swimming pool area. This includes fencing between the owners' residence and the pool.
A minimum fence height of 1.2 m (4 ft). Some municipalities require a minimum of 1.5 m (5 ft.)
A structure designed to prevent and inhibit children from climbing on or over. It should be checked to make sure that no openings exceeding 4 inches in diameter are present either due to aging or improper construction.
Utilize a self-latching and self-closing latch system. The latching system should be a minimum of 48 inches above ground level. Magnetic latches are also available with a resistance strong enough to keep a small child out. This should not replace a lock but merely acts as a resistance for small children.
Includes all types of pools (in-ground, above-ground, portable, inflatable and hydro-massage pools, hot tubs and spas as well as decorative ponds). These all pose equally high risks of drowning or injury to young children. A child can drown in as little as 2 inches (5 cm) of water.
The

fence structure must be a minimum of 1.5 m (5ft.) away from any object that could help a small child climb over. Some examples are; a BBQ, tree, rock, or shrub.
Security Fence Regulations
Regulations and laws pertaining to a child safety pool fence vary depending on your location so be sure to check with your local state or provincial by-laws for up to date requirements. 
For more information about pool barriers and physical obstacles be sure to read Barriers by Pool Safely which is a government website dedicated to pool safety.
A fence is just one layer when considering safety of your overall swimming pool safety. Adult supervision should always be present when children are using your pool. Other safety options include swimming pool alarms, a pool door alarm or gate alarm, safety pool cover, or motion sensor lighting. 
Solar post lighting is a great addition for safety pool fences. Attaching a solar light makes your fence visible at nighttime and allows better vision if you use, or plan to use, your pool at night. Many affordable options are available beyond using a child safety pool fence. 
---
---
---
---
---
---
Disclaimer
Please use all appropriate and proper safety precautions when attempting projects on this website. All projects are attempted at the reader's own risk.
Salt Water Pool and Spa™ participates in the Amazon Services LLC Associates Program, as an Amazon Associate we may earn a commission from qualifying purchases.