Motion Sensor Outdoor Lighting
Motion Sensor Outdoor Lighting
Motion sensor outdoor lighting is a great way to enhance the safety of your pool area and achieve peace of mind with a lot of other added benefits including security and aesthetic appeal.  Imagine the comfort and peace of mind knowing when someone or something is in your backyard or pool area so you can be alerted under any circumstance.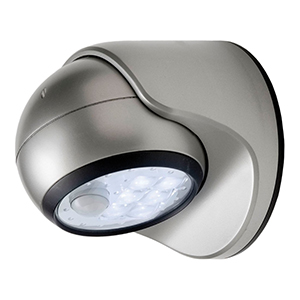 Reactionary lighting provides the sense of security during nighttime hours and enhances the safety of your backyard pool environment by alerting you if anyone is in the vicinity of your pool. 
By strategically facing the sensor towards a gate leading into your backyard, a walkway leading up to your pool, on your pool gate or even facing your pool you can be alerted by lighting that will automatically trigger in the event movement is detected.

The outdoor pool lighting can be set to remain on anywhere from 1 to 20 minutes, range up to a distance of 70 feet and cover up to 240 degrees.  The sensitivity can be adjusted and also take comfort in knowing they only activate with motion, saving you electricity and money.
Most models available for the pool industry are very affordable and very low maintenance once installed.  They can be wired by any handy pool owner to an existing electrical supply or connected to an existing outlet on a shed or eves trough of your adjacent house. 
Motion Sensor Outdoor Lighting Options
There are a variety of designs, colors and features available all for a very reasonable cost. Motion detector lighting is very easy to install and maintenance is non-existent other than changing the light bulbs every 5-10 years.  They are great addition to any backyard for all the reasons mentioned above and most importantly add another layer of safety and security for your pool during nighttime hours.
An option for outdoor pool lighting that many pool owners choose is using colored lighting to create that unique atmosphere.  Whether it's a soft blue or green used to create a desired mood or just plain white lighting designed for safety and visibility, you can be creative and it's something you can have a lot of fun with.  Deck lighting is another option although most units do not have motion sensors - some are available with solar power. 
This layer of safety is often overlooked by pool owners but the ease of installation and low price make it an effective source of added safety and security around your salt water pool. 
---
---
---
---
---
---
Disclaimer
Please use all appropriate and proper safety precautions when attempting projects on this website. All projects are attempted at the reader's own risk.
Salt Water Pool and Spa™ participates in the Amazon Services LLC Associates Program, as an Amazon Associate we may earn a commission from qualifying purchases.