Pool Alarm Systems
Pool alarm systems are a great option when it comes to creating a safe swimming pool environment for the entire family.  They are the last line of defense against a child or pet accidentally entering your pool and with a small financial investment you'll be adding an extra step to the overall safety of your swimming pool and pool area.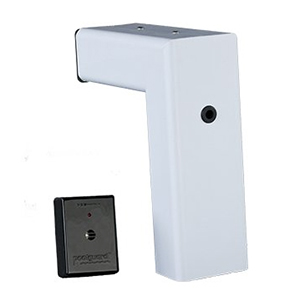 A wireless pool alarm is placed on the deck of your pool about half way from each end of the pool.  Most have an attachment that extends approximately 8 - 12 inches beneath the surface of the water that serves as the motion detector.  After setting to the appropriate sensitivity the detector will sound an audible alarm if anything over a designated weight, around 20 lbs, enters the pool and disturbs the water.
Some alarms include a 2 - way remote that emits an audible alert through the remote when it is triggered.  This remote also allows the setting of actual alarm itself remotely.  All systems are wireless and require batteries for operation. Alarms are equipped with a low power indicator that will warn the user when it is time to replace the batteries for continued, reliable protection.
If you have children that are beginning to wander curiously and even being introduced to the wonders of the backyard swimming pool there are devices made specifically for small children.  We'll discus them below and they work on the same premise that if they make contact with water, an alarm sounds to alert nearby parents who should never be too far away supervising their loved ones. 
Types of Pool Alarm Systems
Some great options are available when considering alarm systems, each with their own unique advantage:
child immersion alarm

pool door alarm

wireless communication

floating alarm system 

attached motion detector
All units have an effective area or maximum pool size that they detect reliably.  Pool owners with large pools have the option of using multiple unites in order to provide adequate coverage.
If you own an above ground pool you might want to consider using a floating alarm system.  It floats freely on the surface of your pool while providing protection.  This type of alarm doesn't need to be placed on a pool deck for proper operation. 
Once the alarm is set up its low maintenance, only requiring battery replacement yearly.  They need to be disarmed when using the pool, and re-armed after exiting which can be done with the push of a button.  The only time you'll ever have to move the unit is when you open and winterize your pool.  You will need to store the unit indoors if you are in an area that experiences freezing temperatures.
Turtle Pool Alarm
A Turtle pool alarm is growing in popularity and one of the best pool alarm systems available because it adds safety and peace of mind for children and they actually like wearing it! It consists of a base unit and wristbands that sense when the child makes contact with water. A loud alarm will sound until it is deactivated. 
The battery life is approximately 3-4 years and additional wrist bands can be purchased and added for expanded protection. The alarm will activate and works with fresh water, pools and hot tubs. 
Pool Door Alarm
A pool door alarm is an excellent low maintenance and affordable way to enhance the security of your salt water swimming pool. Used in addition to a self-latching gate, you can be sure that if a child or unwanted guest enters your pool area you'll be notified by a loud audible alarm.
The peace of mind of a door alarm is worth taking the extra precaution to provide a safe pool environment. Once the alarm is installed you will always know if someone is entering the pool area. It's an excellent option for adding an extra layer of safety.

There are many options available when considering pool alarm systems. Although they are not required in most municipalities they are an important layer of safety to ensuring a safe swimming environment.
---
---
---
---
---
---
Disclaimer
Please use all appropriate and proper safety precautions when attempting projects on this website. All projects are attempted at the reader's own risk.
Salt Water Pool and Spa™ participates in the Amazon Services LLC Associates Program, as an Amazon Associate we may earn a commission from qualifying purchases.