Pool Pump Sheds
A pool pump shed can be really handy if you want to protect your pump and other pool equipment including filter, heater and pool accessories. You may also want to keep the pump and other hardware hidden out of sight or reduce the amount of noise heard by swimmers and neighbours. An organized backyard pool area looks tidier while providing a safe environment for anyone using your pool especially if you have children.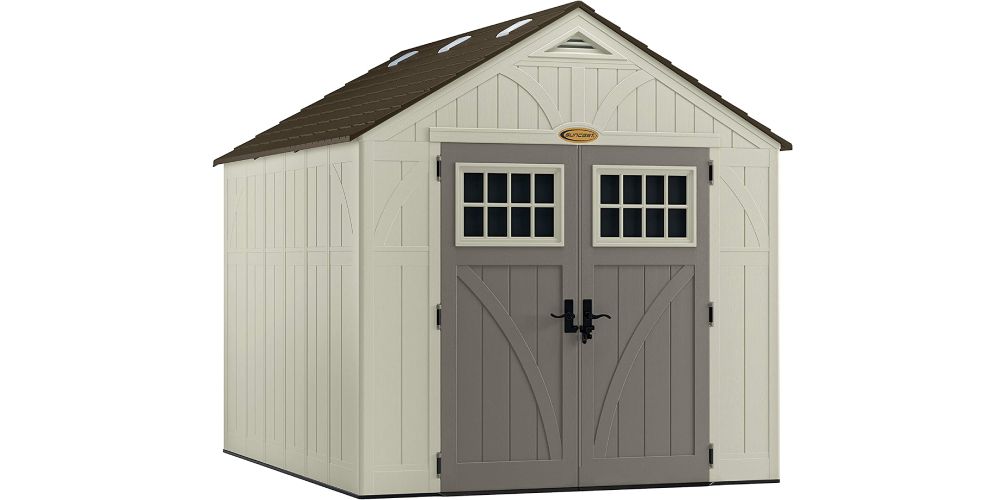 There are a few different options when it comes to protecting and storing your equipment each with their own advantages and applications for pool owners. They range from a very basic pump motor cover that'll protect your pump from direct sunlight and rain to a large pool pump shed enclosure that'll hold anything including pool supplies and yard or garden equipment.
Benefits of a Pool Pump Shed
A quality shed is ideal for storing not only your pump but a great place to store other equipment, including pool chemicals. A locking storage shed is ideal for securing valuable belongings and preventing children from accessing anything dangerous they shouldn't get their hands on. It's very convenient to be able store your pool balancing chemicals close to the pool along with these additional benefits:
Protection from sun, rain, snow and other potential damaging elements
Keep pool equipment out of sight and increase aesthetics of the pool area
Minimize the amount of noise heard by pool users and neighbours
Provide an organized and safe place to store equipment and chemicals
Keep in mind that an enclosure is not absolutely necessary since most pool equipment is designed to be exposed to the elements, but you can count on equipment that is sheltered to last longer. You should also be mindful that pumps and heaters need proper ventilation and should be accessible for routine maintenance and repairs, which we discuss more below.
---
---
Large Pool Pump Sheds
If you are looking for a shed that will hold more than just a pool pump or heater there are some pretty amazing outdoor storage sheds that will keep everything safely in one place. There is nothing better than being able to find your outdoor pool, yard and garden supplies in one handy place that is organized and out of sight when it's not being used.
The features found in the best large pool pump sheds include; skylights, screened ventilation and built-in shelving. You want a shed that is made of heavy-duty materials and a 10 year manufacturers warranty will add some valuable peace of mind to your purchase. In addition to adequate ventilation we recommend looking for the following when purchasing a new pool pump shed:

Front opening double doors to allow for easy access to pool equipment
Locking front panel or door for security against theft and added safety for children
Easy to assemble and lightweight 
Extended manufacturers warranty with a minimum of 10 years
Sturdy and mildew resistant materials or finish
There are many sizes, styles and options available when choosing a large pool pump shed. A good starting point is to think about everything you'd like to store in the shed and estimate how much space you'll need. A small storage box shed is a tidy place to store a pool pump and a few other small items, while a large storage shed or pool house is ideal for storing all your backyard items. 
Suncast 8' x 10' Heavy Duty Tremont Storage Shed

If you click on this link and make a purchase, we may earn a commission.
---
---
Pool Pump Shed Options
If a pool pump shed doesn't seem like a great fit for your backyard there are some really great alternatives that are worth considering. You are limited only by your own creativity if you choose something simple like shrubs or landscaping to hide your pump, or you might opt for something simple like a pump motor cover for added protection. Let's take a look at different ideas for your backyard pool equipment storage needs. 
Pump Motor Covers
Storage Boxes
Privacy Screens
Shrubs or Landscaping
---
1. Pool Pump Motor Covers
A pool pump motor cover is as simple product designed to fit over the pump and protect the motor from harsh weather and anything else that might compromise the pump. Since the size of pumps varies considerably depending on make, model, hp and brand it's important to measure your pump and choose the appropriate cover. The length of pool pumps can vary by as much as 8 inches and the height by as much as 6 inches. 
This type of cover won't replace a pool pump shed but it can do it's job very well if all you want is a protective shell to go over the pump. It could be relied on during the winter to prevent snow form accumulating on the pump and can even be painted to match your pool environment. It may restrict accessibility depending on the model and type of pump you are covering which should be kept in mind when installing. 
Blue Devil Heavy Duty Adjustable Pool Motor Cover

If you click on this link and make a purchase, we may earn a commission.
2. Pool Storage Boxes
If you don't require a big pump shed you might find that a pool storage box suits your needs better. A pool equipment box works great for providing a compact place to store the pump and possibly the filter and heater, depending on the size. This type of pool equipment storage is ideal if you are limited for space on your pool deck or surrounding pool area. It will provide shelter while keeping the pump out of sight from anyone using the pool and maybe provide a little extra storage.  
Small storage shed boxes can be made out of any number of materials but synthetic materials that are used today can stand up to almost all weather conditions found in the United States and Canada including rain, snow, extreme heat and humidity. Metals can be susceptible to rust or mildew buildup where synthetics resist this type of damage. An added benefit of synthetic compounds is they are usually fire retardant and virtually maintenance free. 
Suncast Horizontal Stow-Away Small Storage Shed Box

If you click on this link and make a purchase, we may earn a commission.
It's important to recognize that most storage boxes aren't designed to store a pump, filter and heater. They can however be modified to be a great, affordable solution to both protecting and hiding your pool equipment. If the pool storage shed box does not have built in ventilation, we recommend creating your own with a saw capable of cutting plastic. This will most likely void the warranty and should only carried out if you are comfortable working with tools. 
3. Pool Privacy Screens
A pool privacy screen is a very easy and affordable way to turn an eye-sore into an attractive landscape feature. A 2-piece screen can be attached together to construct a makeshift fence that will hide just about anything including a pump, filter, heater or air conditioner that seem to take up valuable space around pools. Incorporate a screen into your natural landscape to completely hide pool hardware or add a pool shade cover to provide cover and shading from above.
An outdoor screen enclosure is an excellent way to easily hide pool equipment that is an eyesore. It installs easily with steaks hammered into the ground and snaps together along the posts with a few screws.This alternative to a pool pump shed will hide equipment very well but if a static plastic screen isn't appealing you may want to consider a retractable sun and wind screen. 
Enclo Vinyl Privacy Screen Panels 2 Panels

If you click on this link and make a purchase, we may earn a commission.
4. Shrubs or Landscaping
A natural alternative to a pool pump shed is to surround pool equipment with shrubs, plants or low growing trees if all you want to do is hide them from sight. The upside is that you will beautify your pool landscape and create some stunning accents for your pool area. The options are limitless when it comes to adding greenery to your pool surroundings. You may even want to consider an artificial hedge decoration that hangs from a fence or something similar. 
If you are a handy pool owner you might want to consider pouring a concrete wall high enough to cover your pool equipment and use it as an accent wall. You could also construct a fence around your pump and filter and grow wild ivy or a sprawling plant. Check that your desired bush, plant or tree doesn't send destructive roots that can damage your pool foundation and liner. 
DearHouse Artificial Ivy Privacy Fence Wall Screen

If you click on this link and make a purchase, we may earn a commission.
---
---
Pool Pump Shed Installation
Pool pump shed installation might seem like a daunting task for some, especially if you are installing a large pool pump shed. You can expect the shed to arrive curb-side and unassembled so you will need to either hire a local handyman or construct the shed yourself with some basic tools. A large outdoor equipment shed can weigh up to 600 pounds so keep that in mind if lifting heavy objects is a concern.
The foundation should be prepared properly by levelling out the area that the shed will sit on. The shed will have dimensions clearly stated in the accompanied manual as well as more detailed installation instructions. In addition to being levelled, the ground should be porous or angled slightly to allow for proper drainage. This can include gravel but a concrete pad is preferred, with the appropriate grade to allow for drainage. 
Basic tools will be required to construct the pool shed. You can expect to need a hammer, screwdriver, and wrenches for basic sheds. If you purchase a large pool shed you will most likely require a ladder and power drill with drill bits or screw driver attachments. 
Pool Pump Shed Soundproofing
Another added benefit to storing your pump or heater in a pool equipment enclosure is you will muffle the sound created when the pump is running, to a certain degree. If you are handy you can add additional soundproofing to the walls quite easily. An acoustic foam for sound absorption is a great option that is both affordable and will do an amazing job at reducing pool equipment sounds. If your pump is keeping you or the neighbours up at night (when you should be running your pump) this is a great option that really works. 
24 Pack Acoustic Foam Panels for Sound Proofing Walls

If you click on this link and make a purchase, we may earn a commission.
If you store a heater or pump inside a shed enclosure it's important that adequate ventilation is built into the structure to allow harmful carbon monoxide gases to escape. Whether you decide to build your own pool pump shed or purchase a prefabricated unit we hope this helps you make a more informed decision. There is nothing better than an attractive shed that keeps everything tidy and out of the way in your backyard pool area. 
---
---
---
---
---
---
Disclaimer
Please use all appropriate and proper safety precautions when attempting projects on this website. All projects are attempted at the reader's own risk.
Salt Water Pool and Spa™ participates in the Amazon Services LLC Associates Program, as an Amazon Associate we may earn a commission from qualifying purchases.