Battery Powered Pool Cleaners
Battery Powered Pool Cleaners
A battery powered pool cleaner is a relatively new addition to the pool cleaner industry and with the addition of rechargeable battery technology it will always be ready when you need it. This type of portable and lightweight cleaner can be used for all types of pools and are intended for the occasional spot cleaning of leaves, hard to reach areas, small pools and even hot tubs. They can be used almost anywhere and anytime and can be recharged numerous times over the lifetime of the vacuum.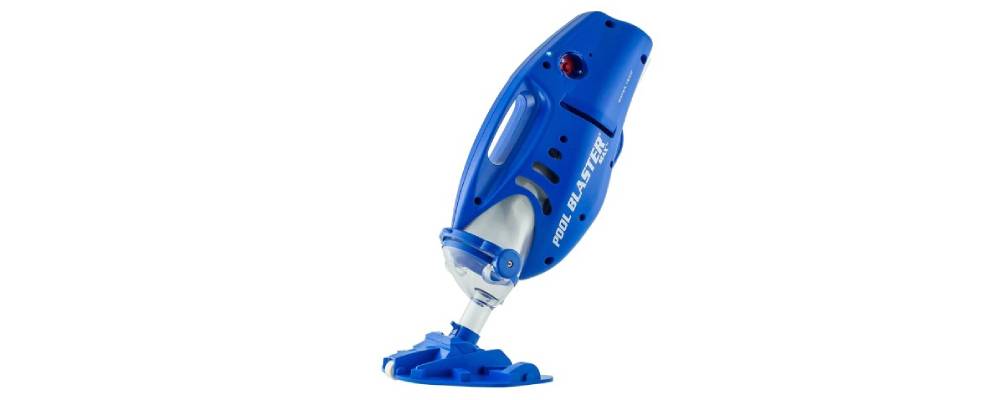 A battery powered pool cleaner is ideal for spot cleaning but for bigger jobs it can be time consuming and a headache. The combination of using an automatic cleaner for bigger swimming pools and a smaller portable cleaner for touch ups is a great idea. Let the automatic cleaner do the bigger work on a set schedule and take care of the minor details when its needed. If you find that a manual pool cleaner is taking too long or too much time, you might want to consider a robotic pool cleaner.
How do Battery Powered Pool Cleaners Work
Battery powered cleaners work by utilizing an electric motor and a rechargeable battery to provide the necessary suction cleaning a pool. The motor powers a suction mechanism or pump that creates a vacuum that allows it to collect debris, such as leaves, dirt and other small particles from the pool's floor, walls and water surface. The debris is collected in a filter or debris bag, depending on the model of cleaner, preventing it from returning to the pool. 
Best Battery Powered Pool Cleaners
The best battery powered pool cleaners combine the portability you'd expect in a handheld vacuum and the suction power of a quality cleaning device. Look for a unit that has multiple cleaning heads that get into the smaller areas in your pool that are often missed by larger cumbersome cleaners. The highest rated battery powered pool cleaners come with rechargeable lithium ion batteries that will last upwards of an hour on one charge.
These handy units operate with either regular AA batteries or the added convenience and affordability of rechargeable batteries. The lithium ion or nickel cadmium batteries can be recharged hundreds of times so you can be sure to get lots of use and cleaning our of your vacuum. The compact units are made to be lightweight and built for portability and ease of use with no hoses or cords to get in the way.
Pool Blaster Max Cordless
When it comes to cordless and battery powered pool cleaners there really is one unit that stands head and shoulders above the rest. The Pool Blaster Max has everything you'd want in a reliable little cleaner. It's cordless, rechargeable, packs a ton of suction power, captures large debris like twigs and leaves while not breaking the bank. You can rely on this cleaner being ready to clean literally every corner of your pool whether it's sand, leaves or dirt. 
Pool Blaster Max Cordless Pool Vacuum Cleaner

If you click on this link and make a purchase, we may earn a commission.
Intex Handheld Rechargeable Pool Vacuum
The Intex Handheld Rechargeable Pool Vacuum has everything you need to keep your inground pool spot cleaned or your above ground pool clean all season long. It's incredibly lightweight, has interchangeable brush heads and even includes a 94" telescoping aluminum shaft to get to hard to reach areas. It has a IPX8 waterproof safety shutoff switch making it one of the safest completely submersible vacuums on the market today. 
Intex Rechargeable Handheld Pool Vacuum

If you click on this link and make a purchase, we may earn a commission.
Pool Blaster Water Tech Pulse
A relatively new cordless pool vacuum on the market is the latest from the most reputable handheld pool cleaners. The Pool Blaster Water Tech Pulse is perfect for keeping hot tubs, spas and pool clean without needing any cords or hoses. It's lightweight yet powerful enough to vacuum up leaves and twigs and hold them in the extra large, see-through holding chamber. It comes with flat head, corner nozzle, reusable filter bag and a 45" pole set. 
Pool Blaster Pulse Cordless Pool Vacuum Cleaner

If you click on this link and make a purchase, we may earn a commission.
Pool Blaster Pro 1500 Commercial Pool Cleaner
The Pool Blaster Pro 1500 makes our list of the best battery pool cleaners because it's ultra powerful and can keep just about any size residential pool clean. It's strong enough to capture golf ball sized debris, including small particles like sand and silt that end up in the corners of the pool. It can be handheld or attached to a standard pool pole for extra reach. It's lithium ion batteries charge in a few hours and will provide up to two full hours of vacuuming time.
Pool Blaster Pro 1500 Heavy Duty Cordless Commercial Vacuum 

If you click on this link and make a purchase, we may earn a commission.
---
---
---
Battery Powered Pool Cleaner Advantages
The main advantages of rechargeable cleaners is that they are lightweight, cordless and can be recharged when not being used. A portable hand held cleaner can be very beneficial at different times of the year including leaf shedding and and springtime to clear out sand and even algae. They are ideal for touch ups in hard to reach areas but can be used as the sole cleaning device for smaller above ground pools and spas.
The built in filter can be emptied easily and cleaned with a garden hose or something similar. When you are finished cleaning they can be stored away neatly and they don't take up a lot of room. If you are tight for space in your pool shed they can be hung up out of the way for easy storing and access. A battery powered pool cleaner has it's definite advantages and are worth having around your pool all year long. 
It's important to note that there are several portable pool cleaners available that aren't rechargeable. The batteries will need to be replaced periodically depending on how often you use your cleaner but it's a good idea to keep spare batteries around for when you need to give your pool a clean. Many of the top models of battery operated cleaners have options that allow the cleaner to be attached to a telescoping pool pole to achieve a longer reach if needed.
Battery Powered Pool Cleaner FAQs
The battery life of a pool cleaner can vary depending on the model and usage, but on average you can expect them to run for 1 to 3 hours before requiring a recharge. 
They can be effective in cleaning small pools and hot tubs or spot cleaning large pools, but their efficiency may depend on factors such as specific model, battery life and the type of debris present in the pool. 
They utilize an electric motor and rechargeable battery to create suction, collect debris and provide effective cleaning without the need for a cord or external power source. 
They are generally safe to use in various types of pools, including salt water pools, in ground pools and above ground pools.
The frequency of recharging the battery on a pool cleaner depends on factors such as the model, battery capacity and pool size. On average you may need to recharge the battery every 1 to 3 cleaning cycles or as specified by the manufacturer. 
---
---
---
---
---
---
Disclaimer
Please use all appropriate and proper safety precautions when attempting projects on this website. All projects are attempted at the reader's own risk.
Salt Water Pool and Spa™ participates in the Amazon Services LLC Associates Program, as an Amazon Associate we may earn a commission from qualifying purchases.