Outdoor Carpet for Pool Decks
Outdoor Carpet for Pool Decks
When it comes to outdoor carpet for pool decks you likely want to create a comfortable place to relax and enjoy the pool that'll be low maintenance and safe to use. The color and look of the carpet, rug or mat is likely a high priority when choosing the best pool deck carpet but there's a few other elements to keep in mind such as material, construction, fade resistance, mold and mildew prevention. There's even the added benefit of slip-resistance with some of the texture carpets that will make your pool deck safer in addition to just looking great.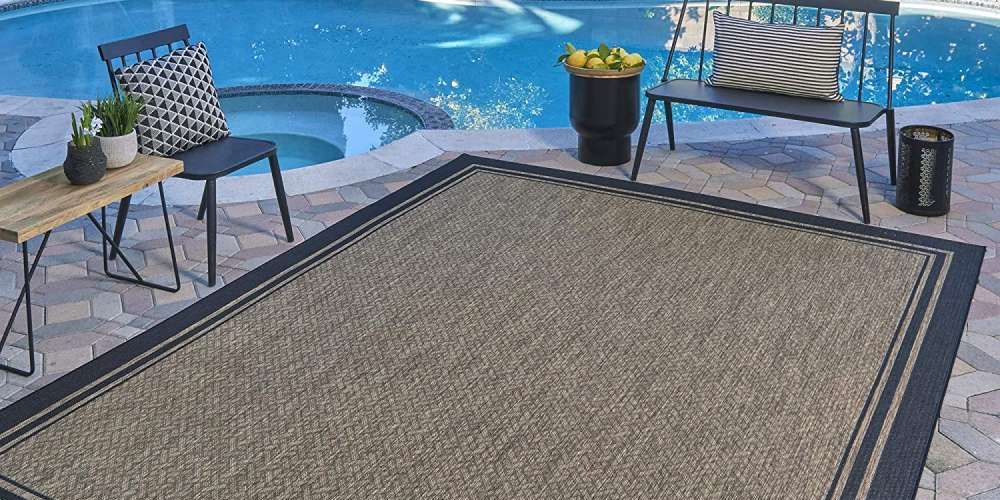 With all of the benefits of adding an outdoor carpet for pool decks it's hard to imagine not having one. It's a pool deck accessory that often gets overlooked and once you have it, you'll wonder how you managed without it. An outdoor carpet combined with the best pool deck furniture ideas will help you create the same comfort as being inside. Whether you add a carpet to cover a deck lounging area or add a large accent rug you're sure to find something you like in our list of the 10 best outdoor carpet for pool decks below. 
10 Best Outdoor Carpet for Pool Decks
Our list of the 10 best outdoor carpet for pool decks starts with an incredibly durable turf carpet that can be pieced together to cover literally any size outdoor area. We've also included large rugs, mats and even artificial grass tiles that can be used as an accent in outdoor dining areas, designated lounging spaces, sunroom or an area covered by a large pool shade sail. Any good outdoor carpet, rug or mat should be made with materials that resist the elements and will stand up to just about anything, which we discuss below. 
1. Goasis Outdoor Artificial Grass Carpet for Decks
There's something to be said about the allure of fresh green grass, and while it's not always practical or even possible for some situations, an artificial grass rug can be the perfect solution. Comfort can be achieved in this super-strong high density grass that's so soft to touch, your bare feet are going to love it. This artificial grass outdoor carpet for pool decks is available in just about any size and is ideal for just about anywhere; deck, patio, dollhouse, balcony, pool patio, garden and as a small durable doormat. It's made to withstand heat, ultraviolet rays, pool water and is all weather resistant.  
Polyethylene
0.4 inch
Various; 2'x8' to 13'x82'
---
---
2. House, Home and More Outdoor Carpet for Pool Decks
Are you looking for a budget friendly outdoor carpet that can be used just about anywhere you want to add some color and comfort. It's great for decks, patios, sunrooms, boats and because it's resistant to stains, moisture, mildew and easy to clean it's ultra low maintenance. It's backed with a durable rubber marine backing so it'll stay in place and won't slide on the surface underneath. The low pile height makes it incredibly easy to cut and trim into place with a knife or scissors or used as is for sizes as large a 50 feet by 6 feet!
Polypropylene Olefin
0.2 inch
Various; 6'x10' to 6'x50'
---
---
3. iCustomRug Large Outdoor Turf Carpet
This thick turf carpet is ideal for small and large outdoor areas whether it's a door mat, lounging area on a patio, in a gym or even for landscaping. It's ultra-versatile and the thickness makes it soft underfoot for next to a pool while still being durable enough for a gym or pet daycares. The 100% Olefin polypropylene is UV stabilized, fade resistant and with the carpet bound edges you won't get any frayed edges. There are many sizes available making it one of our most comfortable and versatile outdoor carpet for pool decks. 
Polypropylene
1.25 inch
Various; 2'x12' to 12'x18'
---
---
4. House, Home and More Large Outdoor Carpet
An outdoor carpet for pool decks should be weather, mold and mildew resistant and able to stand up to any condition the outdoors brings, and this one does. It's made of high quality polypropylene fibers that are resistant to staining, fading and wear and tear. The edging is unbound but doesn't fray even when cut into place for those unique areas. The low pile height and ribbed texture provides grip, making it a safe flooring option for a pool surround or deck.
Polypropylene
0.2 inch
Various; 6'x10' to 6'x50'
---
---
5. Gertmenian Outdoor Rug for Pool Decks
Are you looking for a high quality rug to accent your pool deck? This top rated outdoor carpet for pool decks made number five on our list for a number of important reasons. This isn't an ordinary rug; it's made with ultra strong cable polypropylene yarn. It can withstand rain, snow and most importantly, pool salt water that's splashed out. It can be sprayed clean with a garden hose so it'll look as clean as the day you bought it. In addition to being super quick drying, it's been UV stabilized so it won't fade and it's also resistant to mold, mildew and stains.   
Polypropylene
0.2 inch
Various; 2'x6' to 9'x13'
---
---
6. Gertmenian Outdoor Rug for Deck or Patio
Does a school of fish, palm leaves or starfish appeal to you? If solid greens, blues or browns just aren't going to work, these outdoor carpet for pool decks are going to provide charm, personality in an array of colours and patterns. The Belgian craftsmanship is evident in every rug that's ultra-strong and easy to care for by simply spraying off with a garden hose, and allowing to quick dry. These outdoor carpet rugs are ultraviolet stabilized to resist fading and will resist mold, mildew and stains, making them perfect for a pool deck or patio area. 
Polypropylene
0.2 inch
Various; 6'x9' to 9'x13'
---
---
7. DII Moroccan Outdoor Reversible Area Rug 
This one size Moroccan outdoor area rug makes our list of the best outdoor carpet for pool decks because of the high quality and great price. It's attractive and bold coloring is reversible and because it's lightweight it can be moved and cleaned in a breeze. The 100% virgin polypropylene is hard-wearing as well as mold, mildew and ultraviolet resistant. It's easy to care for and won't get damage by the weather even in the hot sun or cold rain. Ideal under patio furniture and next a pool because of its water resistance. 
Polypropylene
0.25 inch
4'x6'
---
---
8. Fab Habitat Reversible Rug for Pool Deck
If you're looking for an outdoor carpet for pool decks this may be an option for smaller spaces. These incredibly durable mats are reversible, ultra weather resistant and made from 100% recycled plastic materials. While they are incredibly hard-wearing they are soft to the touch making them ideal for around pools or children's play areas. The rugs come in a variety of vibrant colors and sizes ranging from 3'x5' to 8'x10' and even rectangle or round shapes. This is the only round outdoor carpet for pool decks we found for our list. 
Plastic
0.25 inch
Various; 2.5'x8' to 8'x10'
Rectangle or Round
---
---
9. Green Decore Nirvana Outdoor Plastic Deck Rug
This plastic deck rug makes our list of the best outdoor carpet for pool decks because of it's glowing reviews on Amazon. The quality of this flooring option for patios is top notch and with the variety of colors and sizes you should be able to find one exactly the size and design that fits your decor. Whether it's a poolside deck lounging area, children's play area or a sunroom, there is a perfect rug for the occasion. As with all quality outdoor carpets and rugs, they are treated to prevent fading, resist moisture including mold and mildew. 
Plastic
0.25 inch
Various; 3'x5' to 9'x12'
---
---
10. ECO Matrix Outdoor Carpet Tiles for Pool Deck
Are you looking for a versatile outdoor carpet for pool decks in convenient tile form? These artificial grass carpet tiles are easy to install and can transform any area into an oasis that's both soft to walk on and looks stunning. These eco friendly tiles are non-toxic making them ideal for deck lounge areas, children's play areas and of course next a swimming pool. They interlock together with their easy installation system is easy to install or clean and will look great for a long time due their UV and fire resistant materials. 
Plastic
1.2 inch
12"x12" Tile
---
---
---
---
Outdoor Carpet for Pool Decks Construction
When it comes to being classified as a true outdoor carpet there are a few things that are necessary, especially if the carpet is going to be exposed to moisture. In addition to harbouring mold and mildew, a carpet that doesn't resist water can create a safety hazard especially when it's next to a pool because of how slippery it gets. Keeping this in mind we are going to go over the materials to look for as well as some key features like being fade resistant. 
Carpet Material
The most common synthetic material used to make outdoor carpet for pool decks is polypropylene which is a close relative of polyethylene. It's used to create ultra resilient products while still being soft enough to the touch so you can walk or lay on them. It's not as soft as polyester, acrylic or nylon but unlike these materials, it can stand up to just about anything. It's fade resistant, water resistant, mold & mildew resistant and wicks away water so it doesn't get slippery when wet. It's used to make the best outdoor carpets including high end artificial grasses. 
You may find an outdoor carpet that's made from plastic, or more specifically recycled plastic which is just as resilient as polypropylene. 
Nylon
Nylon is a fantastic material when it comes to durability, resistance to wear and it's used in endless applications that require strength. You can commonly find nylon used in seatbelts, parachutes and rope just to give you an idea of how its relied upon to be super strong. In addition, it also holds color very well and resists stains of all types. It's ideal for high traffic areas such as a pool deck, walkway or lounging area with heavy furniture. The only downsides to nylon are the higher cost and it tends to retain heat. 
Polyester
A polyester outdoor carpet for pool decks will tend to have very vivid colors that won't fade in the sunlights ultraviolets rays and outdoor weather conditions. It is susceptible to matting, shedding and pilling if it's exposed to high traffic causing increased wear. While it is durable in a sense, and soft to the touch it is not the best material for an outdoor carpet that's exposed to the elements all year. 
Acrylic
Acrylic plastic is sometimes found in outdoor carpets and other items used outdoors like furniture and canopies. It's known for its ability to repel water and dry quickly, making it resistant to mold and mildew. It holds its color well and is resistant to staining similar to polypropylene except that it's prone to staining from grease and oil. The main downside to acrylic is it tends to mat so try to avoid high traffic or weight bearing areas. 
Pile Height
The pile height for most outdoor carpet for pool decks will be in the range of 0.2 to 0.5 inches. The reason why a low pile height is ideal for outdoors is because it will tend to not retain moisture, dry out quicker and resist becoming slippery. In general, the more compact the material is the more resistant to wear it will be. There are however some exceptions to this rule when it comes to outdoor artificial grass that has been engineered to be incredibly resilient, and fast drying due to its high drainage rate capabilities. 

Carpet Color
The best outdoor carpet for pool decks come in a variety of vibrant colors, patterns and styles that really make them ideal for any area. While artificial grass will almost always be a green color, replicating natural grass, carpets and rugs come in solid colors in every color you can imagine. This also includes rugs in bright tropical, beach or water themes that are perfect for an outdoor pool area or sun room. Synthetic materials like polypropylene are known for holding color even when exposed to direct sunlight and splash out from a salt water pool.
---
---
---
---
---
---
Disclaimer
Please use all appropriate and proper safety precautions when attempting projects on this website. All projects are attempted at the reader's own risk.
Salt Water Pool and Spa™ participates in the Amazon Services LLC Associates Program, as an Amazon Associate we may earn a commission from qualifying purchases.