Pool Deck Furniture Ideas
10 Pool Deck Furniture Ideas
The best pool deck furniture ideas combine traditional practicality with the latest innovations including synthetic materials. It's now easier and more affordable than ever to create and enjoy almost any type of pool decor with the numerous furniture types and heating technology. Add to the mix some of the best deck lighting options and you've got an outdoor space that is equally or more appealing than your indoor space with the benefit of a pool, sunshine and fresh air. As our world evolves many homeowner's are spending more time at home and why not create the perfect outdoor pool space for you and your family to enjoy every day.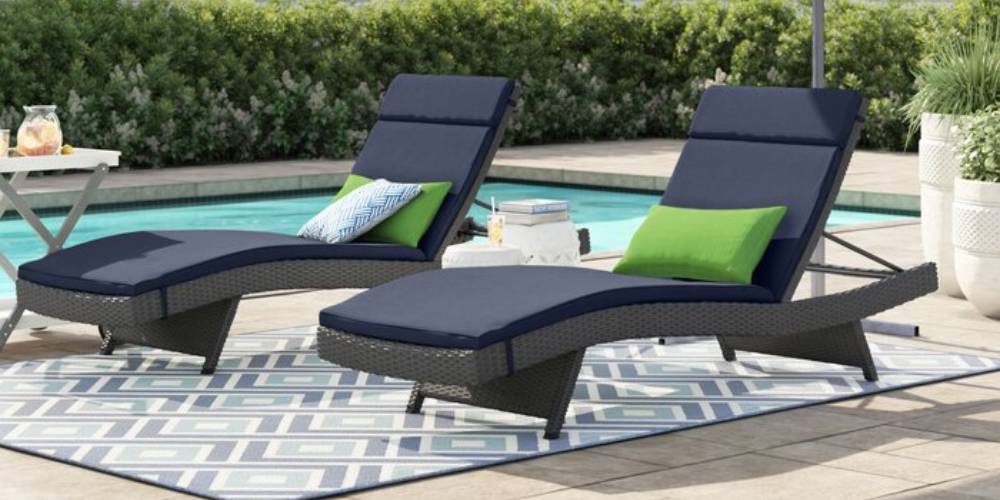 Are you trying to create an area for evening fine dining or maybe you're just looking for a place to soak of the suns rays next to the pool and be really comfortable while doing it? You really can have it all with a little bit of creativity and planning how you're going to set up your pool deck. With the many amazing pool deck ideas out there you can transform your old, rough concrete deck into something a lot more practical like wood or travertine tiles. Add an outdoor furniture couch set, a fire table and umbrella and you've quickly created a place to enjoy your pool day and night in almost any temperature. 
10 Best Pool Deck Furniture Ideas
The following list of the 10 best pool deck furniture ideas was inspired by pool owner's like you and feedback from actual experiences in North America. This includes both extreme hot, sunny weather and colder weather where a deck heater or fire pit table is the best thing you could ever want to stay warm and comfortable after a swim. Let's take a look at what makes the best furniture for pool decks including waterproof materials, super soft cushions and rust resistant powder coating finishing that will look great accented with the best outdoor carpets. 
Wicker Chaise Lounge Chairs
Fire Pit Table and Chairs
Sectional Conversation Set
Outdoor Dining Set
Cantilever Umbrella
Outdoor Bar Set
Outdoor Round Daybed
Outdoor Heater
Deck Storage Box
Hot Tub
Wicker Chaise Lounge Chairs
If you are looking for simple yet modern pool deck furniture ideas a chaise lounge chair delivers on both. The typical deck chair has come a long way from the basic tilting metal chair that you'd eventually slide off of or slip through the straps if you spent more than a few minutes trying to soak up some sun. 
In todays pool deck decor there are options that are smartly constructed, durable, easy to use and of course very comfortable. A tilting chaise lounge chair can be set at multiple tilt settings so you can get just the right angle to the sun. Look for the ultra durable, lightweight and attractive synthetic wicker that will stand up to extreme weather without breaking down.
A polyethylene cushion material will help wick away water and dry fast if it gets wet, in addition to not fading in the sun. 
---
---
Fire Pit Table and Chairs
If you're looking for pool deck furniture ideas with fire pit there really is nothing better than a complete fire pit table and chairs set. Enjoy lounging poolside even during the cooler evening hours with a propane fire radiating heat in the middle of your table. 
The simple design features a coffee table that transforms to a fire pit that's fuelled by a propane tank that sits under the table. The chair set is constructed of rust resistant powder coating and the cushions are made of quality olefin that's UV and water resistant. 
As an added bonus to the Grand Patio 5 Piece Fire Pit Set is its ability to convert into a barbecue, grill or fill it with ice to be used as a cooler to keep food and drinks cold during the hot summer months. This premium set is available in 4 colors that will look great on just about pool deck.
---
---
Sectional Conversation Set
Are you looking for a modular outdoor pool furniture set with a couch? The biggest things to keep in mind is choosing materials that will stand up to getting wet and all outdoor weather conditions. The best materials are synthetics such as composite wicker, rust and corrosion resistant finishes and mold or mildew resistant washable cushions. 
Modular or sectional pool deck furniture sets are popular because they can be arranged depending on how they're being used at any particular time. The chairs can be used separated for individual lounging or connected around a center table for lounging with friends and family.  
Look for a set that includes at least a 3 section couch, and 2 or 3 separate individual chairs. Each section can be arranged seamlessly for the ultimate in versatility. 
---
---
Outdoor Dining Set
Our list of the best pool deck furniture ideas has to include a place to eat and dine whether it's after a swim or just relaxing outside enjoying the beautiful serenity of your pool. There's nothing quite like enjoying an afternoon lunch outside in the summer or a relaxing candlelit dinner with family or friends with the soothing sounds of water in the background. 
Look for a set that's big enough to host friends and family. The Walker Edison Maui Slatted Wood Outdoor Dining Set is ultra-versatile because of the extendable table insert. The solid acacia hardwood will stand up to the elements and it's also available in 3 colors; brown, dark brown and grey. 
This really is hands down the best outdoor dining set that's perfect for pool decks or anywhere you want enjoy a snack or meal in comfort. 
---
---
Cantilever Umbrella
There are a few pool deck furniture ideas with shade and an umbrella definitely takes the cake when it comes to providing shade and cool comfort during even the hottest summer days by the pool. Even a step better than a regular umbrella, a cantilever offset umbrella is perfect for providing a large, reaching shade canopy to a lounge or dining area. 
There are literally thousands of types of umbrellas on the market today. It really comes down to the little details when choosing the best umbrella for pool patios and decks. You want to to find an umbrella that's made of sturdy metal that won't bend or break when it's windy or being moved. The canvas should be made of heavy-duty, water-resistant UV protected polyester. As an added bonus look for a portable umbrella with wheels and a heavy enough base to keep the umbrella stationary on windy days. 
---
---
Outdoor Bar Set
An outdoor bar set is one of the most unique pool seating ideas because it's main purpose is to enjoy snacks and drinks while also enjoying the pool. There's nothing like an ice cold lemonade while outside on a hot summer day with family and friends. In the evening time, entertain family and friends with a walk-up bar set on your pool deck. 
The bar stools should be made of sturdy synthetic wicker and topped with thick sponge seat cushions for ultimate comfort. The cushions should be easy to remove, making them easy to keep clean all season long. 
Look for a table topped with tempered glass, which can be used to place food, drinks or even an outdoor speaker. Storage shelves on the backside of the bar table can be used to store wine, drinks, snacks, towels or whatever you want next to the pool and out of the elements. 
---
---
Outdoor Round Daybed
An outdoor daybed is one of the most creative and versatile pool deck furniture ideas with privacy on the market. If you want to feel like you are on a tropical vacation in your own backyard this unit is worth serious consideration. 
This convertible piece of furniture will provide a comfortable and shaded place to relax next to the pool and if you really want to relax slide the pieces together to form a super relaxing outdoor bed. A daybed can be used as 4 separate pieces or all together to form a circular place of relaxation. 
The lightweight wicker rattan material makes this unit easy to maneuver while still being resistant to adverse outdoor weather conditions. The adjustable canopy can be used to block out wind, sun and even provide a privacy screen when you want a little extra privacy in your backyard pool area. 
---
---
Outdoor Heater
An outdoor deck heater should be able to stand up to any weather condition including rain, wind and even snow. Look for a unit that operates on at least 45,000 BTUs of heat output, allowing it to heat an area in excess of 200 square feet or 10-15 people.
A typical 20 lb propane tank should last about 10-12 hours of continuous operation. It's a good idea to keep a back up tank so you can have enough propane to last at least a month or two before needing to refill the tanks. 
A large reflector hood made of stainless steel will ensure that the stands up the outdoor conditions and will heat effectively to a large area. You may want to consider a pool deck heater next to a dining table, lounging couch or outdoor bar. Always follow the manufacturers safety recommendations when using an outdoor space heater. 
---
---
Deck Storage Box
This is maybe the most practical of all the pool deck furniture ideas and extra important if you like to keep things clean and tidy or you have children. While it may not be an attractive decor or a colorful outdoor carpet, it is a great way to keep your pool area clean, tidy and safe. 
A large deck storage box is great for keeping cushions, pool toys, towels or anything else dry and accessible. Look for an outdoor storage bin that can hold at least 150 gallons and is made of all weather-resistant materials. 
The Keter Large Deck Storage Box is the perfect solution to storing anything you'd like to keep clean and dry and have access to right on your deck. As an added bonus it's attractive enough to fit in with any decor. 
---
---
Hot Tub
What better place to sit down, lay back and relax than a hot tub right on your pool deck. There's a reason why pools and hot tubs are synonymous and it likely has to do with the fact that a pool is fantastic for cooling off during the hot summer days, and a hot tub is great for staying warm on cool summer nights. 
If you live in a cooler northern climate you'll likely seek out warmth in the evening when spending time on your deck. There are a few great ways to keep warm in addition to a hot tub including a fire pit table and propane heater. If you want to enjoy the water, soothing relaxation and warmth all at the same time, that is where a hot tub is unmatched by anything else on our list of the best pool deck furniture ideas. 
Enjoy this 5 to 6 person hot tub with 50 jets that will take you to a whole new level of passive therapy and soothing comfort.
---
Pool Deck Furniture Materials
Your local climate should factor in when considering the best pool deck furniture ideas. If you experience extreme temperatures or plan on using your deck furniture all year long you should pay special attention to finishing materials. Preference should be given to a powder coated metal, synthetic wicker and cushion materials that can stand up to UV rays and soaring hot temperatures. We recommend using a cover to protect your investment from excess wear and extend the life of the furniture for your patio set, umbrella or any piece of deck furniture.
---
---
---
---
---
---
Disclaimer
Please use all appropriate and proper safety precautions when attempting projects on this website. All projects are attempted at the reader's own risk.
Salt Water Pool and Spa™ participates in the Amazon Services LLC Associates Program, as an Amazon Associate we may earn a commission from qualifying purchases.