Pool Filter Sand
Pool filter sand is specifically manufactured to screen out micro particles that could otherwise end up in your pool. The level of filtration is determined in large part by the quality and condition of the sand so it's important to use a sand that's high quality and pre-filtered. There are few important things you should know about pool sand including the best replacement option when it comes time to switch out the old product.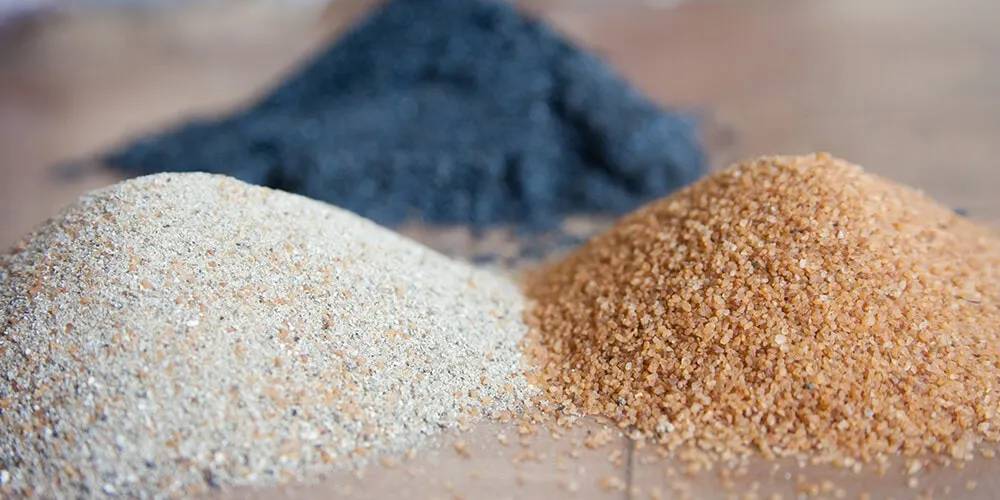 A sand filter will work at its peak efficiency when the sand is clean and still has its rough edges, that can wear out over time. If you were to look at sand under a microscope you would see jagged edges on all sides of the sand particle and it's these misshapen edges that act to catch and effectively prevent unwanted debris from returning to your pool. As the edges round and begin to wear out you will start to notice cloudy pool water more often and it just won't get as clear as it once did. 
Best Pool Filter Sand
The best pool sand you can purchase is a #20 silica sand about 0.5 millimeters in size. It can also be referred to as 20 grit or 20 grade and should be prescreened so it doesn't contain any foreign contaminants. If you use a smaller grain you will run into problems with sand ending up in your pool and possibly causing damage to other components in your pool plumbing system. If you use a larger grain you will be lowering the quality of filtration.
A quality pool sand will resist clumping or calcifying which is often a source of headaches because it's difficult to diagnose. A pure sand with no additives will stay fresh longer and of course routine sand filter backwashing will help prolong its effective lifespan. It's important to remember that a backwash will remove the particles that collect in the sand but it won't renew the jagged shape or get the sand back to its original form.
Palmetto #20 Grade Sand for Pool Sand Filters 50LB Bag

If you click on this link and make a purchase, we may earn a commission.
When deciding on which brand of sand to purchase keep in mind the amount you will need to allow your pool sand filter to operate at peak efficiency. Each filter will have a specified amount of sand or fill line that enables it to do its job the best. A sand pool filter that is filled too much or too little won't operate as well as its designed to. Bags of sand can typically be purchased in 50 pound bags and the average filter will require 50 to 100 pounds.
Pool Filter Sand Alternatives
In recent years there have been a few new products appear that claim to be a better alternative to regular silica sand. The size and function remain the same as #20 silica sand but the materials are vastly different. The cost is also a bit higher in some cases but with the promise of increased lifespan, improved filtration and less backwashing may be worth it for some pool owners. 
Zeosand
Recycled Glass
Filter Balls
Zeosand Filter Media
Zeosand is steadily gaining popularity with pool owners including salt water pool owners for the many benefits and great results when combining zeolite and salt water. The results of using it with a salt water system are amazing and will create incredibly clear water. The zeolite media filters debris down to 5 microns which means you get the level of filtration of a D.E. filter without the cost or maintenance of an expensive filter system.
An added benefit is that zeosand controls chloramine formation although this isn't an issue in salt water pools but will improve water quality in any size or type of pool. You can also plan on backwashing a lot less than compared to regular sand. In addition to the time you'll save backwashing you also use about 50% less product if you replace your old sand because it is half as dense. If you normally required 100 lbs of sand you will only require about 50 lbs of zeosand.
Zeolite filter media is an all natural product with no added chemicals so when you dispose of it you can use it as you would fertilizer. The lifespan is similar to regular sand and should last about 5 years with normal use. The upfront cost is a bit higher than you would spend on normal sand but all the added benefits, low maintenance and filter quality make it worth it in the long run. A few of the advantages of zeosand include:
Improved filtration
Biodegradable
Superior water quality
Reduces water waste
Environmentally friendly
Requires 50% less filter media compared to sand
ZeoSand Pool Filter Sand Replacement Media 25LB Bag

Zeolite pool filter media for sand filters 2 x 25lb bags.

If you click on this link and make a purchase, we may earn a commission.
Recycled Glass Filter Media
Another option when replacing your filter sand is recycled glass. The recycled glass filter media is manufactured to have the same size and quality of regular pool filter sand that is about 0.5 mm in size. The most impressive is the fact that glass has a negative charge that will actually attract micro particles in addition to filtering it more effectively. More of the filter media will be used compared to sand that tends to only use the top 4 to 6 inches in most sand filters. 
It is most popular with indoor pools because of its ability to prevent chloramines where air quality is an issue. It also appears to produce crystal clear water compared to regular pool filter sand and for some commercial pool companies it is the new filter media of choice. It's estimated that recycled glass will last 10 or more years with regular backwashing and cleaning. Let's take a look at the benefits compared to regular sand:
Exceptional filtration
Attracts micro particles
Lasts longer
It won't clump or calcify
Clearer water
Shorter backwash intervals
Increased air quality
Environmentally friendly
Requires 20% less filter media compared to sand
Nature Works Filter Glass for Sand Pool Filters 20LB Bag

Filters 99.64% of particulate from pool water.

If you click on this link and make a purchase, we may earn a commission.
Filter Balls
Pool filter balls as a replacement for silica sand is a new concept that is worth consideration. They claim to filter particulate down to 3 microns which will put your sand filter in a category with D.E. filter quality, without the high price tag. Another amazing benefit is that 1.5 pounds of filter balls will do the same work as 50 pounds of sand. This means in addition to being easier to manage and maintain, the cost to ship the product will be a lot less than regular sand.
The top rated filter balls are made of 100% polyethylene that will last several seasons without needing to be changed. When you consider the filtration quality, weight and longevity it's been an easy switch for some pool owners. They also won't come with some of the problems that can arise with sand like clogging your filter and seemingly constant backwashing. 
Incredible filtration quality down to 3 microns
Budget friendly
Reusable when washed
Longer lasting
Easy to handle
Won't clump or calcify
Less backwashing
1.5 lbs of filter balls is equal to 50 lbs of sand
Rx Clear Blue Luster Filter Media for Sand Pool Filters

100% polyethylene balls for cleaning down to 3 microns.

If you click on this link and make a purchase, we may earn a commission.
---
---
The best sand for a sand pool filter is #20 silica sand about 0.5 millimeters in size.
Typically you will need between 50 and 100 pounds of sand to replace the old worn out sand.
Zeolite is a filter media that can be used instead of regular pool silica sand for increased filtration and longevity. 
Pure filter glass is a replacement option for sand pool filters and provides a high level of filtration that's slightly better than silica sand. 
Pool filter balls are replacement media for sand filters that out performs sand in filtration quality, price and longevity. 
---
---
---
---
---
---
Disclaimer
Please use all appropriate and proper safety precautions when attempting projects on this website. All projects are attempted at the reader's own risk.
Salt Water Pool and Spa™ participates in the Amazon Services LLC Associates Program, as an Amazon Associate we may earn a commission from qualifying purchases.