Pool Automation
Pool automation is now more affordable and easier than ever for residential pool owners that want to reduce the amount of time looking after their pool and spend more time enjoying it.  The existence of wi-fi and portable electronics like the iPhone, iPad and other Android devices has resulted in some amazing smart products that make it possible to control your pool from almost anywhere for less than you might think. 
The top rated pool automation systems will now take care of almost every aspect of your pool, if you are a salt water pool owner you will already appreciate the convenience and benefits of automatic chlorination.  It now goes a step further with automation for chemical maintenance, filtration, cleaning, temperature, lights and anything else you want to control in your pool and backyard.  
The best remote pool systems on the market today offer complete integration with smart home systems including Nest and Amazon Echo.  It's hard to imagine that in only a few short years home owners can now operate just virtually anything in their home and pool with the push of a button whether they are at work, vacation or on the golf course.
If you are confused and overwhelmed by pool automation and how The Internet of Things (IoT) and smart devices play an important role in new remote technology, you are definitely not alone.  The good news is that we are going to explain the basics and the different levels of automation that range from single smart pool products to all-in-one pool automation systems.  
Pool Automation Explained
How does pool automation work exactly?  The way it works is actually quite simple and after all that is the purpose of it.  It's the idea of making a task that once required manual input, fully programmable with the touch of a button so you don't need to even think about it or take time out of your busy day.  In addition to making it easy to program and control, you now have the ability to control pool devices from just about anywhere in the world. 

1.  Power Center  (Control Panel)
All the equipment you use to operate your pool and spa including backyard electronics can be powered, programmed and operated by a control panel or power center.  The control panel can be as simple as a timer that operates only your pump or it can be an advanced controller capable of managing up to 50 different devices.  
The different options vary in cost and complexity but you can literally automate every aspect of your pool if you desire.  The following is a list of pool, spa and backyard devices that can be automated by using a power center or control panel.  
Pump and Filter

Cleaner

Heater

Salt Water System

Lights
Chemical Dispenser

Water Feature

Sound System

Valve System

Fire Pit
In the past you were required to program everything at the panel itself and if you wanted to make a minor change you had to do it at the control panel.  In the new age of technology you can now control every function remotely from just about anywhere as long as their is internet connectivity.  It's incredibly handy if you want to increase the temperature of your pool before you get home from work or if you forgot to turn the lights off after a nighttime swim. 
2.  Remote Pool Management System
The remote pool management system is where the magic of being able to control all of your devices wirelessly from anywhere with an internet connection happens.  Every device that is automated by the power center can be controlled with the push of a button on your iPhone, iPad, or iMac computer with free software and apps.  It will operate on any mobile android device, tablet or computer with the latest software and apps created by the major pool manufacturers. 

An issue with past systems is they were difficult to keep up to date and the latest software downloads were difficult if not impossible to access.  The new intuitive software is a lot more convenient and can be updated either through a wireless USB port or online, and it's free.  The latest pool automation systems will stay updated and ready to go for years and will take you into the future of pool technology. 

The installation of the wireless pool system has been made easier in recent years and takes only a few minutes to set up.  The visual display is designed to be incredibly user-friendly and give the pool owner customization of just about everything.
In addition to individual controls you now have the option of saving themes that can be restored for special occasions or relaxing nights under the starts.  Here are some other features of the latest and best remote pool management systems on the market.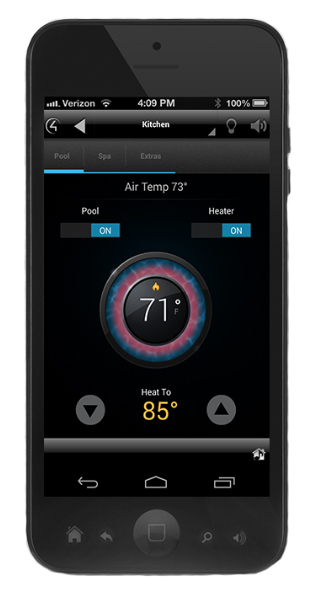 Hayward OmniLogic
Easy to program and control up to 50 devices simultaneously.
Seamlessly integrate additional hardware like a robot pool cleaner, heater or lights with plug & play convenience.
Set schedules and maximize energy efficiency with cleaning, filtration and sanitation.
Automate chemistry with the latest in chemical feeders and controls.
Cutting edge software and apps allow for simple operation, free upgrades and customization.
Control everything through a base unit, wireless and wired remotes, android devices, iPad or iPhone depending on where you are. 
In addition to being able to take all of the controllability of your power center and put in the palm of your hands, you can integrate the system into your smart home.  In the past there were issues with crossover software but with todays top mobile pool applications you can have it all in one place.  This makes it incredibly convenient to take control of your home and pool automation and have it accessible in one place. 
Top Rated Pool Automation Systems
If you have ever considered automating your pool or spa it is finally a time when the average pool owner can have the pool of their dreams.  It's definitely worth the investment for the added convenience and efficiency that could end up saving you up to 70% in energy costs.  If the energy savings aren't convincing enough you are going to like the fact that everything you need is sold in one convenient bundle so you don't have to purchase the control panel and remote system separately. 
Hayward Pool Automation System
Hayward is arguably the leader in pool and spa automation and rightfully deserves that distinction based on it's latest product the all-in-one OmniLogic Automation System.  It is the best pool automation system on the market featuring plug & play, 50 device capability and fully integratable with major smart home systems like Nest or Amazon Echo.
In addition to being a complete bundle it is easy to install and is backed by Hayward customer service and warranty if you every need help or have an issue with the product. It's the perfect set up for anything looking to have complete control of their pool anytime and anywhere.  If you already have a control panel or you have a salt chlorine generator you might want to consider the AquaConnect remote pool management system app. 

Zodiac Remote Pool Management System
Zodiac pool and spa automation has come a long way in recent years especially with the upgrade and improvements made to the iAquaLink 2.0.  If you are looking for an affordable control system for multiple devices you will be happy with the AquaLink Z4 power center.  The combination of both of these reliable products will provide complete automation of your pool at an affordable price. 
If you want to keep things simple without the need for a control panel or iAquaLink 2.0 you might want to consider the Jandy iQPump01.  This new smart pump is fully operational on it's own from any handheld device and ideal for pool owners that are want to keep things simple. 

Chemistry Automation
One of the ways you can really lessen the amount of time you spend looking after your pool is to automate some of the chemistry balancing.  The two most important levels in any pool are the sanitizer and pH which are also the levels that experience the most sudden and unexpected fluctuations.  The fluctuating levels can be caused by any number of factors including weather, heavy pool usage and temperature and can throw a pool out of balance in a hurry.
An automated pool chemical system will monitor two factors electronically, the ORP (Oxidation Reduction Potential) and the pH.  It operates similarly to how a thermostat works by setting a minimum level or threshold.  When the device senses levels are low it will automatically dispense either carbonic acid to lower pH or trigger more chlorine to be produced.
If you have a salt water system you will already be taking advantage of automated chlorination, and a chemical system will take automation one step further.  Since salt water pools tend to see a slow and steady rise in pH you really can benefit from an automated chemistry system.  It will save you time and hassle of testing and balancing chemicals not to mention your pool will be cleaner and safer to swim in. 
Hayward Sense and Dispense
The Sense and Dispense from Hayward is the industry leader in pool chemical pool automation and now works with the new OmniLogic for increased user-friendliness and performance.  It works seamlessly with salt water systems to monitor and automatically balance water chemistry.
It will turn your pool into a smart pool that will require a lot less time to monitor.  Imagine how much time you'll save not to mention money spent on unnecessary pool maintenance. 
If you are a handy person you should have no issues installing this type of device to work with your control center.  It's important to use causation when dealing with electrical equipment and if you ever feel uncomfortable you should contact or hire a professional.  In some cases you may need to hire a professional to prevent voiding the product warranty. 

SWPS Home Page
>
Salt Water Pool Systems