Suction Side Pool Cleaners
A suction side pool cleaner is designed to operate using the pressure created by the pool filter pump in your salt water system. The cleaner is attached to the intake line where water is drawn from your pool into the circulation system beneath the skimmer or a to the skimmer itself by using a special attachment. In some pools there is a dedicated suction cleaner line that is plumbed separate from the skimmer made just for the purpose of housing a suction vacuum. The alternative is to utilize a pressure side pool cleaner that draws power from outflowing water.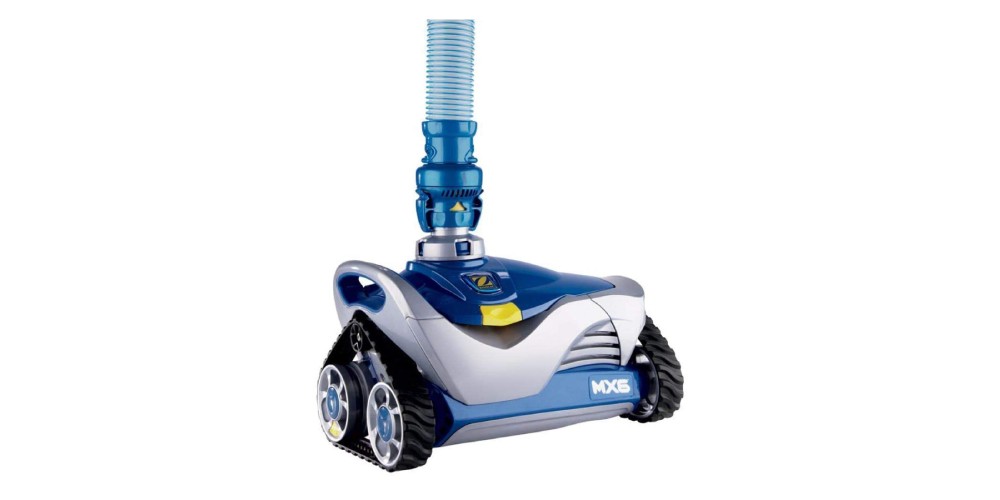 The main advantage of suction cleaners is that they don't require a separate booster pump because they use the suction from the existing pool water pump. Another advantage is that a timer isn't required since they operate simultaneously with your pool system so you know that any time your pool system is running your vacuum is silently keeping your pool clean. Another great option especially for salt water pool owners is to use a robotic pool cleaner which operates completely separate from the pool pump system on a separate booster pump. 
---
---
---
5 Best Suction Side Pool Cleaners
The best suction side pool cleaners on the market today will provide more than enough cleaning power to clean the entire pool. Look for a model that has efficient operation and can deliver optimal cleaning performance with the least amount of the suction required. A variable speed pool pump is ideal for this type of cleaner but look for a cleaner that can operate even on low flow pool pumps and even solar power.
1.  Zodiac MX6 Suction Side Pool Cleaner
The Zodiac MX6 Suction Side Pool Cleaner takes the top spot on our list for several reasons. Firstly, it provides a powerful suction along with aggressive wall climbing so you can count on floors, walls and even the water line staying pristine all season long. The performance is optimized with automatic water flow controls and ultra efficient operation. It works best with a variable speed pool pump or 2-speed pool pump and will keep your pool free from small and large debris. 
2.  Hayward Poolvergnuegen Suction Pool Cleaner
If you are looking for an affordable underwater vacuum from one of the leading manufacturer's in the pool industry look no further than the Hayward Poolvergnuegen Suction Pool Cleaner. It's ideal for pools up to 32 feet and will effortlessly manage debris that ends up in your pool. The patented self-adjusting turbines eliminate clogs and ensures maximum suction power. The pre-programmed steering sequences will keep your pool crystal clean all year.
3.  Zodiac MX8 Suction Side Cleaner     
The Zodiac MX8 is a super powered suction vacuum cleaner that utilizes cyclonic technology to ensure it captures everything in its path. The patented X-Drive technology provides enhances navigation that will thoroughly clean the floor, walls and waterline of any shape or size pool. The X-Track gripping treads allow for extreme maneuverability and climbing capabilities so you can count on tight corners and water lines staying ultra clean. 
4.  Zodiac Baracuda G3 Suction Side Cleaner  
The sleek Zodiac Baracuda is known for its ultra quiet operation and its ability to provide constant cleaning even on a low-speed pool pump. This efficiency makes it a great choice for medium and small sized pools that are uniquely shaped. It will devour small and medium sized debris on your pool floor and walls as it moves about steadily and silently. The fin disc design provides a scuff free clean and will resist getting hung up on lights, drain covers, fittings and other features.
5.  Pentair Kreepy Krauly Suction Side Cleaner    
The Pentair Kreepy Krauly suction side cleaner has been a proven pool vacuum for decades and it's simple design has stood the test of time. This basic cleaner has received some upgrades over the years making it track more smoothly, efficiently and able to maneuver around streps and ladders. The wings channel leaves, dirt and debris directly into the onboard filtration system. A simple design means less repairs and longer lasting reliability.
How a Suction Side Pool Cleaner Works
A suction side pool cleaner works by utilizing the vacuum created by the filter pump when it's pulling water through the circulation system. The suction generates enough power for the cleaner to move in a random pattern along the pool floor and walls. As it tracks around the pool, debris is vacuumed from your pool bottom and taken through to the filter that's part of your existing pool circulation system. The large debris is collected in the pump basket of your filter pump and smaller debris is collected further along in the pool filter.
It's important to check and empty the pump basket and filter often when using a suction side pool cleaner to optimize the cleaning performance of the vacuum.  
It's important to consider the required pressure for different suction pool cleaners. In general, a ¾ horsepower pool water pump is adequate to operate most cleaners. The vacuum is dependant on the suction created by the pump. If your pool system is not in optimum condition either due to a clogged pump basket or a pool water filter that needs cleaning, your cleaners effectiveness will be affected negatively. It's important to note that too much suction can affect the cleaners' ability to move along the floor.
A major benefit to a suction side pool cleaner is they don't require a separate booster pump or a timer and a separate designated line isn't required. A booster pump is required with most pressure side pool cleaners to enable enough pressure to work properly. A timer isn't required because a suction cleaner can operate anytime the existing pump is operating. They also have less moving parts, which means less repair and maintenance.
---
---
---
---
---
---
Disclaimer
Please use all appropriate and proper safety precautions when attempting projects on this website. All projects are attempted at the reader's own risk.
Salt Water Pool and Spa™ participates in the Amazon Services LLC Associates Program, as an Amazon Associate we may earn a commission from qualifying purchases.